League History
The Brewcity Bruisers (BCB) was founded on October 19, 2005 by Butch Cassidy, Jesse Jameson and Chris Carny Power. Within a few months over 80 women signed up to become rollergirls in Milwaukee. They trained at local roller rinks and the first bout was an exposition event at the 2006 Summerfest music festival on Milwaukee's lakefront. From August through December 2006 the Bruisers held the first home season hosting bouts at the Milwaukee County Sports Complex in Franklin, WI. The BCB called the Sports Complex their home for their first four home seasons.
Following the first home season in 2006 the Bruisers quickly formed an All Star team and competed in their first interleague bout against the Sin City Rollergirls in Las Vegas in May, 2007.
The BCB kicked off 2008 by becoming a member league of the Women's Flat Track Derby Association (WFTDA). As WFTDA members, the Brewcity Bruisers All Stars have competed in the 2009 East Coast Derby Extravaganza and three of the WFTDA North Central Regional tournaments (2009 Brawl of America, 2010 Thunda on the Tundra and 2011 Monumental Mayhem). They are currently ranked 7th in the North Central Region.
In 2009 the Brewcity Battlestars interleague B-team was formed. The Battlestars have played a variety of teams throughout the Midwest and most recently won the 2012 B-Cup Tournament hosted by the Bleeding Heartland Roller Girls.
During 2010 the Bruisers experienced huge success and outgrew their four-season-home of the Milwaukee County Sports Complex. In May 2010 the BCB hosted their season four Championship bout at the U.S. Cellular Arena in downtown Milwaukee. Since then the Bruisers have held all home season bouts at the arena. The Bruisers are currently in their sixth home season.
The Brewcity Bruisers held the first annual Midwest Brewhaha tournament in May, 2010 and hosted teams from across the country for a two-day roller derby event. The third annual Midwest Brewhaha will take place in June 2012 at the U.S. Cellular Arena.
2011 was a busy year for the Brewcity Bruisers. In addition to becoming a 501c3 non-profit organization they also formed a recreational roller derby league, the Brewcity Bootleggers. The Micro Bruisers junior roller derby sessions started in January 2012 to train the next generation of derby players and referees.
The Bruisers wrapped up their sixth home season in May 2012 and dove right into the third annual Midwest Brewhaha which was held for the first time at the US Cellular Arena in June 2012. Stay tuned for the BCB's 2013 Home Season Schedule!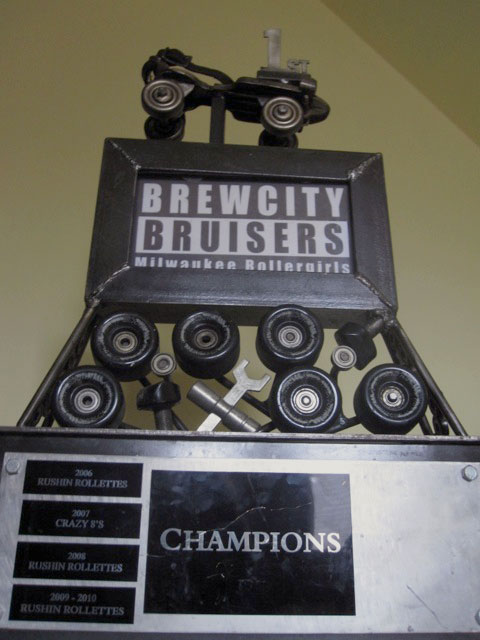 Previous years' home season champions:
2007 – Rushin' Rollettes
2008 – Crazy 8s
2009 – Rushin' Rollettes
2010 – Rushin' Rollettes
2011 – Crazy 8s
2012 – Crazy 8s
2013 – Crazy 8s