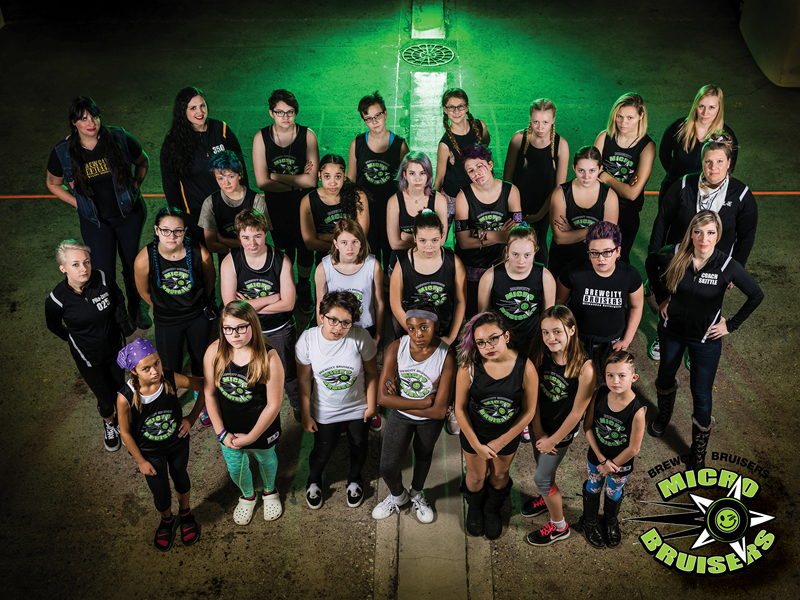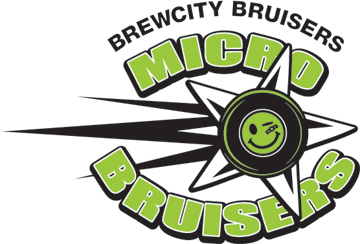 The Brewcity Micro Bruisers are aligned with JRDA, the Junior Roller Derby Association. They ended the 2016-17 season with a competitive bout at Brewhaha. 2017-18 will be even bigger and better as we continue to scrimmage and play bouts against other teams!
Joining the Micro Bruisers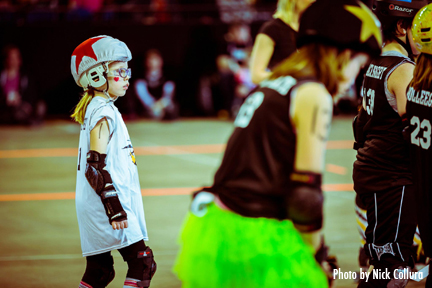 The Brewcity Micro Bruisers are open to kids between the ages of 8 and 17 years old interested in learning the sport of roller derby, and working on developing skating and derby skills. Although no previous roller derby experience is required to participate, interested skaters should have basic forward skating skills and an athletic drive. Because there are various skill levels in the Micro Bruisers, anyone is able to start as a beginner and work their way up.
Beginner Level and Level 1 practices have mostly no contact and focus on improving basic skating form, stops and safe falls.
Level 2 and 3 practices begin to include blocking and jamming drills with contact and work on the strategy of the game. A skills test and written test are required to move up into higher levels to ensure that all skaters are safe and educated about the game.
Our Structure
The Micro Bruisers learn all the basics of roller derby in a controlled, age/skill level progression from current and former Brewcity Bruiser adult skaters.
Practices are held on Friday evenings for level 1, and Sunday afternoons for level 2/3 skaters. Level 1 skaters practice from 5:30-7:30 PM on Fridays. Level 2 skaters practice 1:30-3:30 on Sundays, and Level 3 skaters practice from 2:30-4:30 on Sundays.
Our Coaches
The Micro Bruisers program is led by veteran skaters Roll-ie Fingers, Shirley Temper, and head coach Skittle. Each practice has multiple coaches available to offer group instruction and one-on-one coaching so that all skaters get feedback to overcome challenges and achieve success.
Get Registered
To register for Micro Bruisers, please send an email to junior.recruitment@brewcitybruisers.com. A registration form will be sent to you.
All practices are private to the skaters and coaches and are held at "the Bruisery," the Brewcity Bruisers' top-secret training facility, just minutes south of Downtown Milwaukee.
Junior Derby Gear Requirements
All participants are required to wear all of the following protective gear:
Quad skates (figure or speed, but no roller blades)
Helmet (multi-sport, hockey, or skateboarding)
Wrist guards
Elbow pads
Knee Pads
Mouth guard
Also, check out our Derby Gear Sponsors page for all your gear needs!
Micro Bruiser's History
The Brewcity Micro Bruisers are Milwaukee's first JUNIOR roller derby team. After 6 weeks of intense training, the Micro Bruisers made their competitive debut at the U.S. Cellular Arena in March 2012. Over 3,800 fans cheered as the kids played their first "mini-bout" as Micro Bruisers! In June 2012, they played in their first full-length game at the Brewcity Bruiser sponsored Midwest BrewHaHa roller derby expo. Currently, we've had three Micros skaters get drafted by the Brewcity Bruisers, Tinker Tantrum (Shevil Knevils), Amelia Terrorheart (Maiden Milwaukee), and Pika Zoom (Crazy Eights).