Midwest BrewHaHa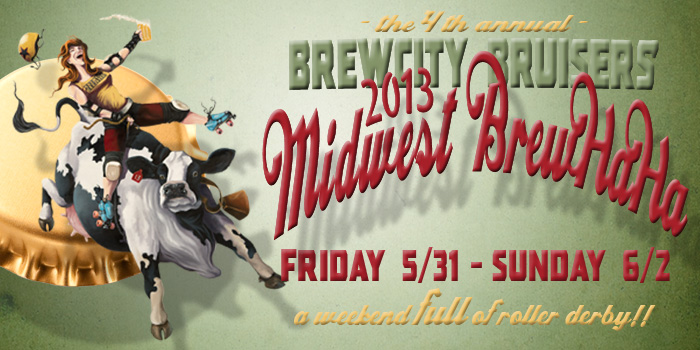 Friday, May 31st – Sunday, June 2nd
U.S. Cellular Arena
Downtown Milwaukee
Mark Your Calendars!
The Brewcity Bruisers invite you to join us for an exciting weekend of awesome derby during our fourth annual regional tournament, Midwest BrewHaHa. Drink in your fill of derby action with two tracks and over 25 teams from all over the U.S. and Canada!
Want Your Team to Skate at Midwest BrewHaHa?
Registration is now closed. Participants will be invited from the teams who have pre-registered.
Stay Up to Date!
Get on our email list for updates and information about the Midwest BrewHaHa. Email brewhaha@brewcitybruisers.com and we'll keep you up to date as things get rolling. Be sure to 'like' our Facebook page as well.
Midwest Brew Ha Ha


Promote Your Page Too
About our Venue:
The U.S. Cellular arena, "The Cell," has been the venue for the Brewcity Bruisers seventh home season, and this 1950s vintage arena will be an excellent location for the Midwest BrewHaHa. The tournament hotel is less than a block away, and there are dozens of clubs, restaurants and bars within easy walking distance.
U.S. Cellular Arena
400 West Kilbourn Avenue
Milwaukee, WI 53203
(414) 908-6001