So, you want to get on skates.
Are you looking for a challenge? Roller derby with the Brewcity Bruisers might be right for you! Because we understand that most people haven't strapped on skates since they were teenagers we have created a program designed to train people of ALL skill levels.
Step 1:  Contact Us
Get on our email distribution list and let us know you are interested. Email recruitment@brewcitybruisers.com with your name, phone number and main contact email address.  You will receive an email confirmation loaded with information about Boot Camps, Recruitment Meetings, Rec League, Brewcity Bruiser Events and more!
Step 2: Attend a Boot Camp
Our Boot Camps are for people ages 18 and over who are new to roller derby and is considered an introduction to the fundamentals of derby style roller skating. This class is your opportunity to take a peek at the sport to see if it's for you. This is a one-day, 3-hour class where you will learn about basic skating form, strides, crossovers, balance, control and how to safely fall and recover. All skill levels are welcome as there is no contact at our Boot Camps, however be prepared for a physical challenge!
No gear? No problem, just be clear in your email that you'll need to borrow some. (Skates may be of limited quantities, be sure to email early to secure a pair!) Ready to buy?! Check out our Derby Gear Sponsors page for all your gear needs.
Step 3: Start Training – Become a Brewcity Bootlegger!
You've completed a bootcamp and you're ready to keep going. Now what? Upon completion of our bootcamp, skaters that are 18 years or older and identify as female or non-binary are eligible to enroll in our recreational league, the Brewcity Bootleggers. The Bootleggers are comprised of multiple skill levels starting with the non-contact 101s to 301s that scrimmage and compete. The Bootlegger program encourages an atmosphere to empowering oneself while learning at your own pace. As you learn and grow you can chose to test into progressively competitive programs as well as trying out to become a member of the Brewcity Bruisers.
---
Don't forget to check back for other future Boot Camp dates!
---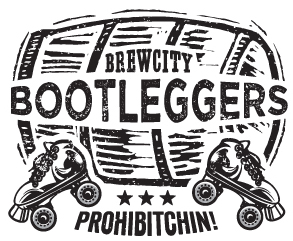 Brewcity Bootleggers are the official recreational team of the Brewcity Bruisers and are dedicated to training and developing and maintaining roller derby skaters at all skill levels and providing opportunities to learn and to play roller derby. Our mission is to provide a fun, safe and competitive atmosphere for all who participate.
The Brewcity Bootleggers are for skaters 18 years or older and identify as female or non-binary that are interested in learning the sport of roller derby. Whether you want to become a member of the Brewcity Bruisers, are interested in being a skating referee or just working on your skating and roller derby skills for overall fitness and fun, this is the place to be.
All sessions are 10 weeks long and taught by experienced Brewcity Bruiser coaches and skaters. Practices are held Tuesday evening and Saturday mornings. In week 10, a group evaluation will be administered to determine skaters overall skill level. Skaters often retake sessions multiple times based on skill, comfort level, and needs of the overall group.
Bootleggers 101: This is our intro session for the recreational team, the Brewcity Bootleggers. This is open to all skill levels. Practices will cover roller derby skills such as pack & jammer knowledge, derby related skating skills, positional blocking (no hitting) and team-work. This session builds the muscles needed for roller derby and encourages the development of a learning mindset.  Prerequisite: Boot Camp, or a pre-approved transfer skater cleared through our Recruitment Manager.
Bootleggers 201: This session is for skaters that have mastered the WFTDA Minimum skill sections 1-4. Practices will include drills that teach advanced roller derby skills, an introduction to full contact, how to play the game, and may include light scrimmaging. Prerequisite: Completion of Bootleggers 101 or skills assessment/pre-approved transfer cleared through our Recruitment Manager.
Bootleggers 301: For those who pass all WFTDA Minimum Skills Requirements and a written test on the rules.  Practices include full contact and scrimmage opportunities with surrounding teams of similar skill level. Skaters in the Bootleggers 301 session are also eligible to be drafted onto one of the four Brewcity Bruiser home teams. Prerequisite: Completion of Bootleggers 201 or skills assessment/pre-approved transfer cleared through our Recruitment Manager.
If you have any questions (or just need someone to talk you into giving it a try) email recruitment@brewcitybruisers.com.