2017 Midwest BrewHaHa Volunteers
Two days. Two tracks. It takes a lot to put on the Midwest BrewHaHa every year and without the help of all of the amazing skaters and fans who volunteer their time the Bruisers would be lost! If you want to be involved and watch some amazing derby, there's a place for you on our team. We will train you for whatever position you take on and of course, you'll have the appreciation of all the skaters!
We're using SignUp, the leading online signup and reminder tool, to organize our upcoming SignUps.
To sign up to volunteer for the Midwest BrewHaHa 2017 – follow these 3 easy steps: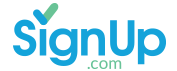 1. Click this link to go to our invitation page on SignUp.
2. Review the options listed and choose the spot(s) you like.
3. Sign up! It's Easy – you will NOT need to register an account or keep a password on SignUp.com.
Note: SignUp.com does not share your email address with anyone. If you prefer not to use your email address, please contact BaronNess.of.Bash@brewcitybruisers.com to sign up manually.