Do you love roller derby but aren't interested in being a target of all that hard-hitting action? Why not volunteer to be an official or an NSO (Non-skating Official)? As an official you can still skate and are an integral part of the league. What if you can't skate (or don't want to)? Then you can still volunteer to be an NSO. Becoming a part of the officiating crew, on or off skates can be a great way to learn how roller derby is played, be a part of the league and feel what it's like to be part of a team.
So what's the difference?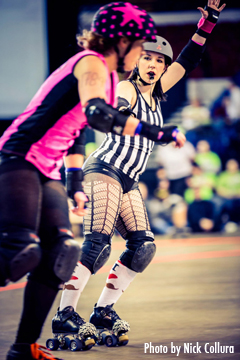 Skating officials help facilitate safe and fair gameplay using the latest WFTDA rules. Our skating officials also travel with our All-Star and Battlestar teams. "NSOs" are Non-skating Officials, and you can find them on the track without skates (hence the name) and they wear the pink shirts. They are made up of a volunteer group of people that help keep order during the bouts, keep score, and track stats, penalties and so much more. Both are equally important parts of the officiating crew, many officials cross between skating and non-skating roles. Our bouts are truly a team effort and every member pitches in where they are able to help.
It's so complicated, do I have to learn all those rules?
Becoming a skating official may not be your speed then but there is still a place for you! There are NSO positions that are very complex and take months, even years, to master. There are other jobs that are equally as important but can be picked up quickly by anyone who is willing to learn. Warning, once you start, you'll want to master them all.
What if I start off as an official and want to become a skater? Can I change my mind?
Yes, we've had many officials and NSOs that have become skaters after being a part of the officiating crew. If you dedicate your time and learn how to be an official, you may even have a leg up on your fellow skaters.
When can I start? Did I miss the cut off date?
We do not have any set cut off dates for any role in the officiating crew. Contact us and we can give you a better idea of what's coming up in training or in our season.
Still want to learn more?
Contact head.ref@brewcitybruisers.com