Rushin' Rollettes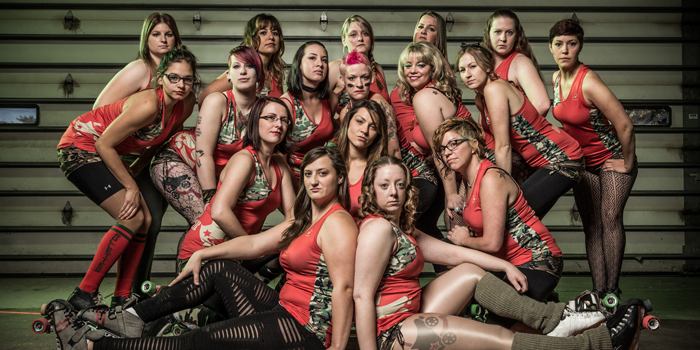 People of Milwaukee protested but had no choice but to allow the Rushin' Rollettes to infiltrate their hearts and minds. From Moscow to the derby track, the Brewcity Bruisers have always had to wreckin' with this crew on quads.
Last season in the home opener, the red alliance was the only team to defeat the current BCB championship team. Each jammer, footwork quick like an M-60, geared up and ready to utilize their newly learned tactics, may be mistaken for a keen marksmen. With training from the KGB, Double R blockers will ensure a smooth and satisfying victory.
Current operations: 14 veteran commanders and well as 7 new privates! The new team has two private first class transfer skaters into the league, Mellon Collie and Frau Kapow (played with the BCB All Stars this past summer). Welcome Privates: Gypsy Von Rolla, Panzerwench, Sammiesaw (Hack's little sis), Skully Wheeler, & Smack n' Cheese to the camouflage militia whom bring valor and vividness.  The Generals: T-Lo and HackSAW are leading the team for the second year.
2014 Rushin' Rollettes Roster