Rec League/Brewcity Bootleggers
Are you looking for a new sports challenge? Roller derby with the Brewcity Bruisers might be right for you! Rec derby is a great way to get active, gain some skills and become a great part of our league! This opportunity is open for women, 18 years and older.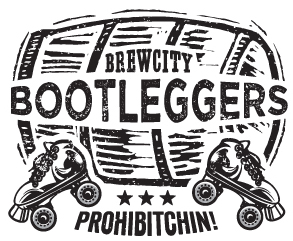 Brewcity Bruisers Roller Derby Bootcamps: This is for women new to quad roller skates that need to learn the basic fundamentals of derby style roller skating. This is a one-day 3 hour class where you will master your form, strides, crossovers, balance, control as you fall and recover—all while focusing on safety first. There is absolutely no contact at our Boot Camps, but you will get quite a work out and leave wanting more! Upon completion of a Boot Camp, you may be cleared to join Rec League 101. Contact recruitment@brewcitybruisers.com with your name and contact information for more info.
Rec League 101: This is the intro session for women who want to skate with our rec team the Brewcity Bootleggers. This session is a twice-a-week program that runs for 10 weeks and is open to any aspiring or retired roller girl. Practices will cover roller derby drills (on and off skates) designed for general fitness, pack & jammer knowledge, derby related skating skills, positional blocking (no hitting) and team work. Prerequisite: Boot Camp, or cleared thru our training team.
Upcoming Boot Camp Dates:
Our next Boot Camp will be held Saturday, April 26th from 4:30pm to 7:30pm. Email recruitment@brewcitybruisers.com with your name and contact information for more details. Don't forget to check back for future dates!
Rec League 201: For those who pass a basic skating skills test (WFTDA skills section 1-4) after completing Rec League 101. This session also meets twice-a-week and runs for 10 weeks, including some overlap with Rec League 101. Practices will include drills that teach advanced roller derby skills, contact, how to play the game, and may include scrimmaging. Prerequisite: Completion of Rec League 101 or skills assessment cleared thru training team.
2013-2014 Bootleggers Schedule

10-week sessions with around 2 week breaks.
Session 1: Oct 26 – Jan 11
Session 2: Feb 1 – April 12
Session 3: May 3 – July 12
Session 4: July 29 – Oct 4
Rec League Practice Times:
Practices are held Tuesdays 6:30 p.m. – 8:30 p.m. (101s & 201s) and  8:30 p.m. -  9:30 p.m. (continued for 201s only) and Saturdays Noon – 2 p.m. (101s & 201s) & 2 p.m. – 3 p.m. (continued for 201s only).
Cost: $100 per 10-week session, payable on the first day of training
Check out our Derby Gear Sponsors page for all your gear needs!