Brewcity Bruisers All Stars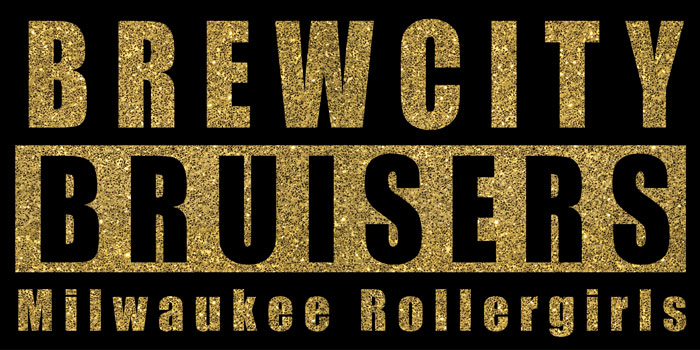 The Brewcity All Stars will be attacking their 7th season with a vengeance! An overflowing schedule of games facing the likes of Angel City (Los Angeles, CA), Jacksonville Roller Girls (Jacksonville, FL), Houston, Tampa, Toronto, Detroit, Grand Rapids, and many more will set them up for success this season. As Brewcity works towards hosting the WFTDA Championship tournament in November, the Golden Ladies will be working hard towards earning a berth to the WFTDA Big 5 Tournaments in the hopes of making it to the top.
In 2012, the Golden Ladies saw a little of the shine taken off their glow with a tough 3 – 9 season. Notably though, 2 of those wins came when they needed them most at of the WFTDA North Central Playoff Tournament, The Thrill of the Spill in Niagara Falls in September. They entered the tournament with a cliff-hanger win against the Chicago Outfit in the first round and then another dramatic last jam victory against the #4 seed Arch Rival Roller Girls to give the BCB All Stars a chance to battle the Detroit Derby Girls for 5th place over all in the tournament. Detroit managed to hang on to the 5th place title, but the All Stars finished 6th overall (having started the tournament seeded 9th) for their highest WFTDA finish ever.
Some old favorites, Becky the Butcher, Carrie A. HackSaw, High D. Voltage and Servin' Justice have taken a break from the All Stars after the 2012 season but you can still see them every month with their home teams. In addition to the perennial Solid Gold Skaters, you'll see some new faces get a chance to take the track in the Gold and Black and 2013 Captains Grace Killy and The Other White Meat, along with Coach Jodee think that we've got one of the most talented teams that the Bruisers have ever assembled.
2013 All Stars
Grace Killy – Captain (Shevil Knevil)
The Other White Meat – Captain (Crazy 8)
10Acious D (Crazy 8)
Bloody Cupcake (Shevil Knevil)
Carabunga (Rushin' Rollette)
Carmen Ejectya
ChaZaam (Maiden Milwaukee)
Em Fatale (Crazy 8)
Feisty Pfister (Maiden Milwaukee)
Frau Kapow
Freight Train (Crazy 8)
Gynomite (Shevil Knevil)
Irish Vixen (Rushin' Rollette)
Lady Pulverizer (Crazy 8)
Latina Heat (Crazy 8)
No Big Deal (Rushin' Rollette)
Puss N' Boots (Shevil Knevil)
Rejected Seoul (Maiden Milwaukee)
Romaniac (Maiden Milwaukee)
Scooter (Crazy 8)
Sharkira (Crazy 8)
Skittle (Shevil Knevil)
T-Lo (Rushin' Rollette)
Zotay (Crazy 8)