Meet the Midwest Brewhaha Tournament Head Referees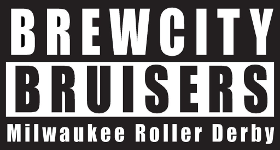 The Midwest Brewhaha is almost here! Learn more about the Tournament Head Referees who help make this tournament possible!
As we are getting closer and closer to the 7th Annual Brewhaha, we would like to introduce some of the people who help the tournament go smoothly.
The 7th Annual Brewhaha has three Tournament Head Referees are Laddie, Pol E Dangerous, Wernher Von Bombed.
Laddie
Sean Hoyt (Laddie) is a Level 4 Certified Referee affiliated with Memphis Roller Derby. Originally from South Bend, IN, this will be his sixth year attending the Midwest BrewHaHa as an official. Laddie currently serves as the Officials AP Manager for the WFTDA Apprentice Program, helping to orient Apprentice League officials to the WFTDA.
This last year was Laddie's third WFTDA Playoff cycle (Cleveland, Detroit and Dallas) and his first as a skating referee at the WFTDA Championships. Laddie was also a CHR for the 2015 MRDA Championships, which included the championship game between the Your Mom Men's Derby and the St. Louis GateKeepers.
Pol E. Dangerous
Justin Calaway (Pol E. Dangerous) has officiated all over the United States in a variety of positions, both as an NSO and a referee. Notable events include THR for the Mid-State Sisters of Skate in 2013, CHR at the 2015 River Valley Riot, and CHR at the 2015 State Wars.
Pol E. works as an Area Coordinator for the WFTDA Apprentice Program, helping guide officials affiliated with Apprentice Leagues through the graduation process to becoming a full member league. Pol E. was recently hired on as a Referee Certification Committee Worker.

Wernher Von Bombed
Aaron Propes (Wernher Von Bombed) began officiating roller derby in 2009 with the Minnesota RollerGirls. He quickly worked his way up the officiating ladder by working as a NSO in the 2011 WFTDA North-Central Playoff, and as a referee every year since then. He's refereed at 12 WFTDA Playoff tournaments, and four WFTDA Championship tournaments, including two finals games, including the 2015 final between Rose City and Gotham. In 2014 he became the first person to referee in all four positions in a single tournament cycle, and it repeated it in 2015.
In 2014 he created Ref-Ed.com, a website with videos designed for aiding newer referees, and referees without access to higher-level officiating learn the basics of officiating roller derby. The videos are freely available and contain no advertising.
Outside of roller derby, he refereed football (proper, not American football) for fifteen years, including regional championship tournaments and semi-professional leagues. He spent many years performing in an educational, interactive theatre project both in upstate New York, and in his adopted hometown of St. Paul, MN.