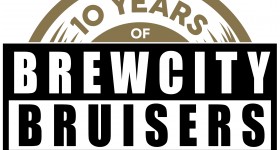 Once a year the best teams from around the world come together for the WFTDA Championships. The 2015 tournament, which included ESPN3 coverage of the deciding bout, was one that fans are sure to remember.
The 2015 Woman's Flat Track Derby Association (WFTDA) International Championships will go down in history, and roller derby fans around the world are excited for what's next.
Many factors made the 2015 tournament stand out for the sport of roller derby.  First and foremost, the final day of Championships streamed live on ESPN3. Airing the event on a large sports network for the first time gave roller derby exposure to millions of households.
Even bigger news was the massive upset during the final bout of the weekend when the Rose CityRollers beat the Gotham Girls All-Stars 206-195 – Gotham's first defeat in five years.
It was a rematch from 2014, when the two teams went head to head for glory in the very same Championships. Last year, Gotham protected their title by beating Rose City in the last jam by a mere three points. This year, the two teams stayed neck-and-neck throughout the bout, neither team being able to hold a steady lead. In the end, Rose City took advantage a power jam, taking the title from the reigning champions and throwing the arena into a frenzy.
History was made again when an international team took a medal in the tournament for the first time.  The Victorian Roller Derby All Stars beat the London Rollergirls, earning the tournament's bronze medal.
The Sacred City Derby Girls took the Division Two Championship Title against the Nashville Rollergirls Music City All Stars.
Many of the Brewcity Bruisers took the trip to Minnesota to see the excitement live and to support their favorite teams in the stands.  Those who wanted to stay closer to home met at Kam's Corner Tap in Milwaukee, which hosted a big watch party in partnership with the Brewcity Bruisers. Dozens turned out to watch the live stream on big screens, enjoy drink specials, and raise money for the Brewcity Bruisers' junior team- the Micro Bruisers. The event was such a success, plans are already underway to host another Championship watch party next year.
If you missed these historic bouts, the Gotham/Rose game will be available on ESPN3 until December 8. After that it can be viewed on wftda.tv, along with the first two days of the tournament.
To see local roller derby history play out in front of you live, the Brewcity Bruisers' 10th season begins on Saturday, January 16. Tickets are available online or at the door. We'll see you there!
-Madame Furie