Training Up At Beat Me Halfway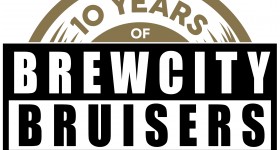 Just because there isn't a bout this month doesn't mean our skaters aren't learning new skills! Learn more about what skaters are doing to improve their skills year round!
Fans of the Brewcity Bruisers have less than a month to wait for the home opener bout – Saturday, January 16 – and to contemplate their favorite home team's chances at the trophy.  As we enter season ten, long-time fans who remember minor penalties and down-knee starts are anxious to see what new skills and strategies the Brewcity Bruisers will be bringing to the track with them.
Flat track roller derby is still a young sport. As the rules continue to evolve, roller derby leagues strive to deliver a game that is as exciting to watch as it is addicting to play. Players world-wide are continuously experimenting with new skills and ways to layer their abilities into cohesive, executable strategies. It is increasingly important for skaters to reach beyond regional familiarity and actively seek out additional training; both on and off-skates.
One of the best opportunities to train up happens each November at a clinic called Beat Me Halfway. Billed as a coed roller derby extravaganza, the name is a nod to the central location of the host city. November 13 – 15, Coach Machete Holiday and nearly a dozen skaters Brewcity Bruisers skaters put their home-team rivalries aside and traveled to St. Louis to aggressively pursue as much training and knowledge as they could pack into three days.
Most of our skaters spent between four and six hours per day on skates. Some of those hours were spent getting direct instruction with a specific focus: withstanding offensive attacks, catching a jammer from a backwards position and bringing her momentum to a dead stop. Some classes brought opportunity for individual attention and fine-tuning, such as backwards skating clinics.
In addition to honing their skills, each afternoon skaters had the opportunity to participate in multiple scrimmages. With three levels to choose from, there was enough variation in skill, experience, and play styles to continually flex skaters' ability to adapt. 
Additionally, our players took advantage of off-skates workouts lead by the very skaters whose strength and power have inspired our own doubling down in the weight room.
Now the Brewcity Bruisers are bringing these new skills to share with our entire league. As the teams fine tune these skills and put them into practice, you can be sure you'll be seeing some new things on the track. Make sure to check it out at our season opening on January 16. 
-Frankie Fatale