Spotlight on League Photographer Bruce "Moosie" Berna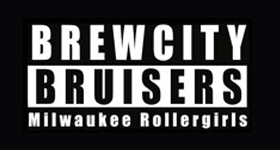 We would like to take a moment to show our appreciation for our league photographer Bruce "Moosie" Berna. He's been with us since the beginning and in this interview shares his love of derby, photography and more.
Brewcity Bruisers would like to showcase our league photographer, Bruce Berna (AKA Moosie), who has been with us since the beginning. We all eagerly wait for him to post the link to his Flickr page with the photos of the most recent bout. He has imaged BCB history, and we appreciate him for it! Please enjoy the following Q&A that features one of our most appreciated contributors.
Moosie, how did you find out about the Brewcity Bruisers?  I had read in the newspaper that roller derby was restarting in the Milwaukee area. I remembered it as a teen, and thought this would be something to see again now that I am older and have some money. I was also looking to expand my photography interests as an outlet for my creative side. Also, at that time, my mother was dying from cancer. She had survived two other onsets, but she had just had her heart worked on, and was too weak to survive this third onset. I needed something to get me out of the house for a bit. She told me to go for it. I did. She passed in October of '06, but she saw I had found something that was giving me enjoyment, and others, too. So, listen to your Moms. They are right a good part of the time! She was into Roller Derby in her youth, when she would go down to the Armory to "see the tough girls skate".
What do you do for a living when you are not imaging roller derby?  I am an Aviation Technician for a local firm. I just celebrated my 36th year on the job there. I started at 19 out of Milwaukee Tech. At the time, Milwaukee Tech's Electronics program was the same that MATC had going for their college program. So I basically graduated from high school with an equivalent of an Associates degree in Electronics.
What are your interests aside from roller derby?  Some of my other hobbies have been scratch-built RC aircraft, model trains and photography. I tend to jump into hobbies with both feet…it seems that I like the intricate stuff that requires a steady head and hand. I also like to custom-build my own PCs (just better quality). I've been on a vacation from AD&D for a long while now. I used to trek down to Lake Geneva in the late '70s and Early '80s to the VFW Post and gamed a few weekends with Gary Gygax himself. I'm still active in Online Gaming. SWTOR is my current thing. I play Star Wars the Old Republic and Hydra the game…meaning I have 2 accounts and play on 2 computers simultaneously. I guess I multi-task pretty well.
What has roller derby brought into your life?  Roller Derby has become an outlet for me. Plus it's my 3rd family. We all have our Blood Family or Work Family. Derby is like my second Blood Family. Slamela hit it on the head when she said the skaters are my Sister/Wives. They are an extension of my Blood Family. That's why when I see a skater get hurt, or a game is really close, I get anxious. One of the hardest things for me is when a veteran leaves. It's like seeing a member of your family move on. You wish them the best. But you darn well know you are going to miss them. So, derby has brought the love of family into my life. I've told my coworkers that you will never meet a finer group of people to work with or be a part of. 
What advice would you give someone who was thinking of becoming involved with BCB or any roller derby team (whether volunteering, skating or officiating)?   If you are going to be part of BCB, or any league, there are a couple things to remember. It's going to require work and dedication. We all can't have the fun jobs. And if you say you are going to do something, do it. If you need help, ask for it. Also, don't take so much onto your plate that you start failing at your tasks. We all tend to do that. Also, try the things you are uncomfortable with, try anything to crack your shell a bit. We're all cracked a bit doing this thing we call derby…join the club. Most importantly, be true to yourself and your league.
What advice would you give someone who was thinking of imaging roller derby?  If you are thinking of imaging derby, don't expect to get all access right away. First of all, look at what's going on down on the track. These athletes are moving around the track in armor quickly. You need to be aware of that. That's why I wear the same helmet they do. Because when I have that camera pressed against my face, I see nothing from the sides. You will get bumped sooner or later. So make sure you are ready for it. Use a little tact when imaging the skaters. You aren't shooting for some mens' soft core magazine. Treat them as the athletes they are. Besides, most of them can put that lens somewhere you wouldn't like, and will if you are a creeper. Also, if you think you are going to make loads of money, get into pet photography or weddings. Derby Togs shoot because we pretty much love the sport and the people. Maybe someday there will be money, but currently it's an affair of the heart. My gear consists of a 70-200 f2.8 lens (it's the derby standard). Each venue is different and each league is different. So get a good on camera flash. As the league get to know you better, they may allow off camera flashes, but start simple and work from there.
How many derby photos do you have in your Flickr account? And can we have the link? I currently have 396,669 images on Flickr and 612 Albums. The 612 Albums are the bouts and league events I have captured. I have attended more like 750 bouts. I don't always wear my glass eye…although it seems like it sometimes, though.
https://www.flickr.com/photos/mcmoosie/sets/
I am approaching 4 million views of these images. I have learned to do minimal adjustments to the Flickr images and work on them for the league when they want certain images for publication. Besides, the skaters like to play with them. What fun is it if they can't add captions? This is why I also make them small and at high levels of compression.
Any information you would like to share with our readers? Derby can be as hard as you want to make it. Also, it can be a whole lot of fun. It's up to you what it becomes for you. And you never leave it. For the friendships you create, the memories you leave will be with you always. As a Derby Tog, I keep that in mind. Years from now, I hope when the skaters are sitting looking at these images that we Togs have captured for them…I hope they remember fondly their time they spent. Even if they don't remember who captured the images. If we as the Derby Togs bring a smile to your face, a warm memory to your heart, an ache to your hip, our Job here is done. LOL!