You've Been Served…Servin' Justice Retiring Her Skates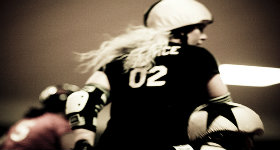 This Friday, when the last whistle signals the end of the Crazy Eight's and Shevil Knevil's game, it will also mark the end of an era for BCB. After more than 9 years and over 900 hips checks, Servin' Justice will retire, having played her 44th and final home bout with the league.
Servin' Justice has been a Brewcity Bruiser and a Crazy 8 from the beginning and is one of the few remaining founding members. She is an institution. Due to her longevity and the fact that she has "raised" so many skaters, she has earned the affectionate nickname Mama J. In honor of her retirement and her years of dedication to the league on and off the track, we asked her to tell her derby story and to share with us her future plans.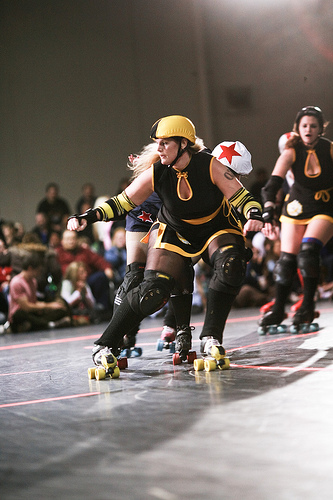 First, let's do a recap. To refresh our collective memory, what is your athletic/skating background, and how did you come to join BCB?
I have been skating since I was very little. My grandparents lived next to a local skating rink; I remember I spent a lot of time there as a kid. Just cruising the rink. I remember watching roller derby as a little girl with my dad, when it was on after WWF wrestling, thinking how I wanted to do that one day! A girl can dream, right?
When I was a teenager, I really fell into my skates and got pretty good at it. Always winning the races and red-light-green-light. I found myself star-struck by the jam skaters—skating fast with style and rhythm—and just knew I had to be like them. I knew with dedication, and begging my parents for money, rides and permission to go out on a school night, that one day I could be a jam skater. It didn't take long for me and my "skating friends" to feel the rhythm, get into the groove, and learn how to jam skate, which became my life. Jam skating was my life. No really, it was my life. My entire life, pretty much through my entire teenage years.
Then, it was time to move on and do grownup things like go to college and get a job, so I figured it was time to hang up my skates. College work, my job, not even my active social life ever filled the void I felt during my 20s. I couldn't figure out what I would ever do to find the joy I had back in my skating days. It was a blessing one fall morning in 2005 when my receptionist laid a newspaper article on my desk that read, "Roller Derby forming in Milwaukee!" Say what??? I read the article and within minutes I was on my computer emailing the contact to find out where I could sign up!
"Hey Dad, remember that time when I was kid and I told you I wanted to play roller derby when I grew up? Well, guess what!?!?" Yes, that conversation happened. And it ended with, "Oh well, just don't hurt yourself." Oops.
I had no clue what I was getting into. Practices hadn't even begun yet and we were in the midst of holding meetings to get ourselves off the ground. I attended an informational meeting in Bay View, a part of town I don't think I had ever been to before. I remember the bartender, a girl who was also joining the league, explaining roller derby to me on a bar napkin. An oval, blockers, pivots and jammers—scoring points somehow—and the best part, knocking the crap out of each other! That's all that really mattered back then. We were all blind as to what we were really getting into, but we all knew we wanted it. I remember Cris Carney Power, another founding member, talking with so much love and enthusiasm about what we were about to bring to Milwaukee, and what it meant, and how great we were going to be. She was right.
I also didn't realize that I was going into a sport where I already had the upper edge on a vast majority of the other girls because of my skating experience. What, didn't everyone in Milwaukee roller skate their entire childhoods? Nope. Most of the women at our first practice were holding onto the walls, unable to do a simple crossover or even skate backwards. We were literally starting from the ground up. The blind leading the blind.  And it was awesome. I felt awesome. I felt so fulfilled, like I finally found a place to fill that void; this was where I just naturally belonged.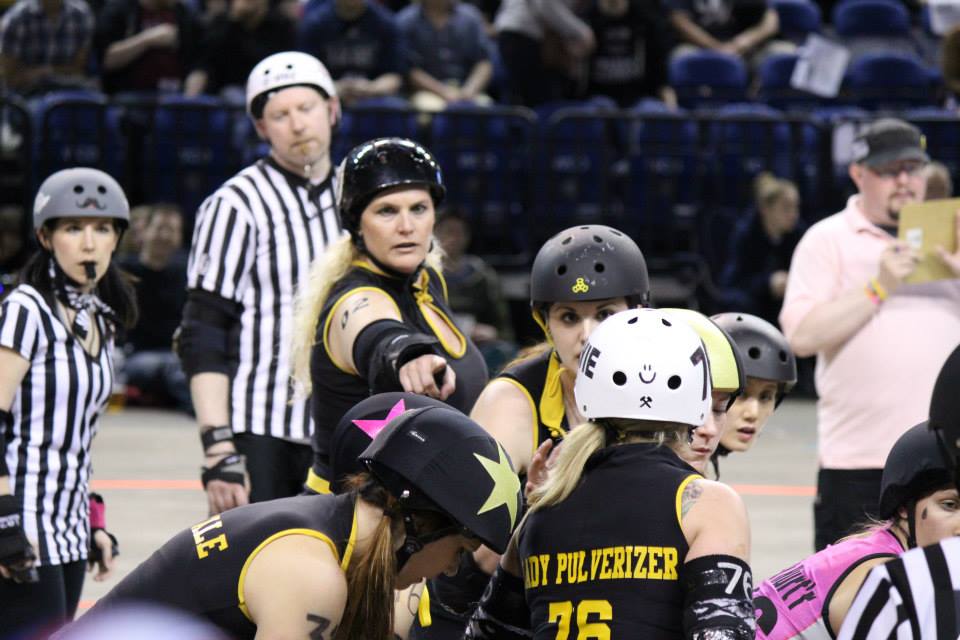 You're a founding member of BCB. Can you confirm how long you've been skating and the changes you've seen taking place in the league, in the sport as a whole, etc.?
It's now 2015. This may look like I've been at this for an entire decade, but realistically it's just over 9 years. This is my 9th season and 44th home bout as a founding member of BCB and a Crazy 8. I'm proud to hold that record—have never missed a game—and played 44 bouts with my original team. I wish I didn't have to stop mid-season. I would've liked to have completed the season with my team, but sometimes our bodies tell us we must do otherwise.
I don't even know where to begin with the sorts of changes within BCB or the sport as whole since I started. When BCB started, there were only like 40 teams in existence. Today there are over 2,000 teams worldwide. Roller derby is very grass roots, DIY; no one owns us and controls us. It's still, to this day, for the skaters by the skaters, which is why it's become what it is today—and not on mainstream TV with promoters.
BCB started out trying to hold on to the "spectacle" aspect of the game, the thing that most people out there still think of when they think of roller derby. Elbows flying, powerful whips, dramatic falls, lots of personality and makeup, fake/staged fights, and a whole lot of talking smack!
We used to have this penalty wheel, and the skaters who had the most penalties at the end of each period would spin and then have to do some quirky act to entertain our fans. I think it was a pillow fight on skates that led to a dislocated shoulder and put the kibosh on that foolishness.
I remember our "penalty box" was merely a metal dog cage, manned by drag queens with whips. No joke! We served one-minute penalties in this cage and the beatings were not pleasant. But, hey, the fans enjoyed it, right??? I honestly don't think they even noticed.
The rules went from a 9-page booklet to nearly 75 pages of confusing and "still being interpreted" rules on how to play roller derby. It may look simple from the crowd (or does it?) but even as someone who has been around from the beginning, I can't even keep it all straight some times. Thank God for our dedicated referees and NSO staff to keep us in check! Hey refs—THANK YOU for everything that you do to make roller derby happen!
Injuries and pain used to be handled with "rubbing dirt on it" for recovery. We were tough girls, ya know? We never had medical staff at practice. We were only lucky enough to sometimes have a massage therapist there doing massages for donations, which was a reason for people to get out of practice half of the time. Today we take safety very seriously. Sometimes I feel like if I sneeze too hard I will be evaluated for a concussion 5 minutes later. Okay, not really. But, we have taken huge strides and come a long way, and for that I am thankful. We do play a very real, very aggressive, full contact sport on wheels. Injuries are inevitable. But the more we can train and respond to injuries smarter, the better we will all be in the long run.
So, to sum it up, derby really has changed a lot. It continues to evolve and be better tomorrow than it was yesterday, just like our athletes. We value our hard work in making this a respectable sport not only for our skaters, but for our fans. We know our fans are still catching on, and I know BCB will continue to do all the great things that keep us striving, skating, and kicking ass.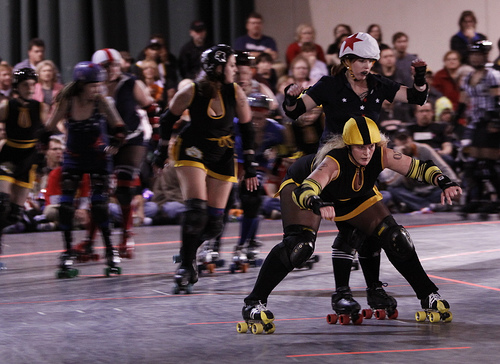 I know it is likely impossible to choose just one, but what are some of your favorite moments during your time with the Bruisers?
I remember when I joined, I was excited to know that one day I could sit and tell my grandchildren that I was a roller derby girl. I never knew I'd have nearly a decade of memories that will live with me forever.  It's not just the sport or the game, but the camaraderie, the friendships, the life lessons, and the experience and memories of being a part of this.
With memories of the Crazy 8s, the All-Stars, and the Battlestars, I must say I have extremely heart-melting memories working with the Fresh Brews. When I used to coach our newbies I would always cry as they got drafted onto home teams. It was like sending my kids off to college and watching them succeed. Oh, and then later that week being able to beat up on them on the track! They loved it.
My favorite moments include the Championship of 2011 when the Crazy Eights went from "worst to first."  I cherish the moment when Freight Train became a Crazy Eight and we got to skate together instead of against each other. I cherish the moment when Cookie Ciano told me she was coming back! But mostly, I know I'm going to cherish the moment when I skate my final game with the Eights on Friday. Those girls are everything to me. It's gonna hurt, but at the same time, feel so good.
Do you have any wisdom to share with folks who are still on the fence about lacing up some skates and committing themselves to joining a derby league?
To anyone who is on the fence about lacing up some skates and joining a roller derby league, I say do it.  Don't let anyone tell you that you're not a good enough skater. Or that you're too tall, too short, too big, or too thin. I don't care how old you are, or if you've never played on a team sport. I don't care if you haven't skated since your 6th grade school skate or only know how to roller blade. It doesn't matter if you have five kids, if you have grandkids, if you have a full-time job or are a law student or a flight attendant with unique schedules; I've seen it ALL, and I've seen them all succeed. Just don't let anyone tell you that you CAN'T do this. You can.
What are you most looking forward to doing with the free time you'll have without practices, etc.?
The thing I am looking forward to most is being with my family. Not just being able to be around more for my husband and step-kids, but for my parents, too. My parents live out of town, and I know I've put derby before family things in the past 10 years. I'm really looking forward to spending more time up north and just spending time with them. Oh, and finally being able to do things on Saturday nights without having to worry about an early Sunday morning practice!!! There's that, too. That's huge.
Any final words you'd like to share?
This is my derby dismount, but it's not goodbye. I feel like everyone should have a "final game" that they can use as closure to their derby career. Injuries happen and sometimes will take people out of the sport before they're ready. I didn't want that for me, and I know I crept too close to it, but I feel good about being able to share a final game with those around me. I am thankful for the experience and the friendships I have gained from this.
So after my game on Friday, I'm hanging up my skates again (remember, I thought I was hanging them up when I was 19). I'm 36 now. But this is not good bye. You can probably expect to see me around maybe coaching, maybe announcing, or maybe just recruiting. Who knows what my future will hold?
Thank you to everyone who has been a special part of my derby journey. Thank you for everything you do on and off the track. I know you work hard; you are extremely appreciated.  #02 – Servin' Justice®
—Pariah Carey
Photo credit (all pictures): Bruce "Moosie" Berna