Triple Header Interleague Bout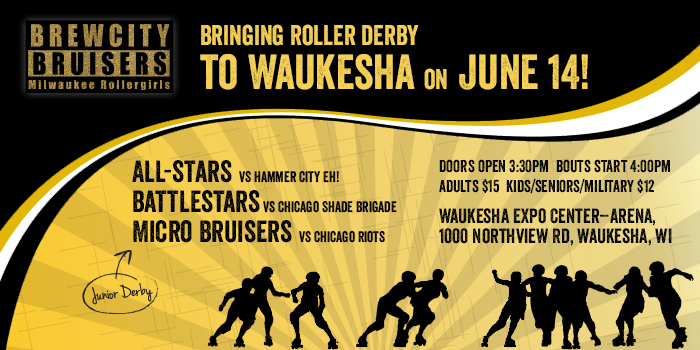 The Brewcity Bruisers crash into a new venue this Saturday, June 14th, in an unprecedented TRIPLE-header at the Waukesha Expo Center.
Doors open at 3:30 pm with the Micro Bruisers (junior roller derby) kicking off the event against the Chicago Riots at 4:00 pm. This is the second inter-league bout for the Micro Bruisers after a hard-fought loss against the Kingsford Track Bratz in February.
In the second bout of the night, the Brewcity Bruisers Battlestars take on the Chicago Shade Brigade at 6:00 pm. Milwaukee's tenacious B-team holds a record this season of 4-2 after this past weekend, only losing to the B-teams of a top 10 and a top 20 ranked team.
Rounding out the evening, the Brewcity Bruisers All-Stars battle against Hammer City at 7:45 pm. After a recent 11-spot jump in WFTDA rankings, the BCB All-Stars fight to keep their winning momentum against the Canadian team. "By skating at a new venue in Waukesha, we are hoping to expand our suburban fan base in the Metro-Milwaukee area," said the co-captain of the BCB All-Star team, T-LO. "Many of our skaters live or work in Waukesha County and are eager to bring the sport we love to the area.
"Don't miss out on seeing these skaters and support staff this weekend:
Micro Bruisers – 4:00 pm
Head Coach: Terror Lapinski
Bench Coach: The Other White Meat
Rostered Skaters: Amelia TerrorHeart, Atomic Bee, Candy Demolition, Cinderhella, DD, De-Fying Gravity, Jackie Jackhammer, Jazzy, Johnny Death, Kit Kat, Madtown, Mini Meat, Pierracuda, Poison Kat, Rage A Muffin, Rollin' Rizz, Skinny Jeans, Slim Skatey, XtinguisherBrewcity
Bruisers Battlestars – 6:00 pm
Head Coach: Machete Holiday
Bench Coach: Mr. e MACHINE
Team Captains: Grace Killy, Servin' Justice, Steamy Wonder
Rostered Skaters: 10Acious-D, Abra Cadaver, Betty Boobs, Bexit Wound, D'Amanda Beating, Frau Kapow, Johnnie Blockran, Lady Pulverizer, Mass Myrtle, Slayerah, Thrash Mama, Violet FemmeBrewcity
Bruisers All-Stars – 7:45 pm
Bench Coaches: Machete Holiday & Mr. e MACHINE
Team Captains: Latina Heat & T-LO
Rostered Skaters: Becky the Butcher, Carabunga, Carmen Ejectya, Frank Hurt'r, Freight Train, Gynomite, Irish Vixen, The Other White Meat, Puss N' Boots, Sharkira, Skittle, Stormin' DaCastle, Zo-Tay
Tickets can be purchased at the door. Adult tickets are $15 and discount tickets for children, seniors, and military are $12. The Waukesha Expo Center is located at 1000 Northview Road, Waukesha, WI 53188.