Meet Your Rushin' Rollettes!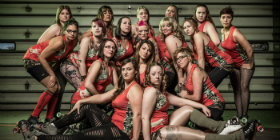 It's not all vodka and ushankas over at the Rushin' Rollettes compound. Ida Stroyder lets us know what it really takes to play for the red and camo.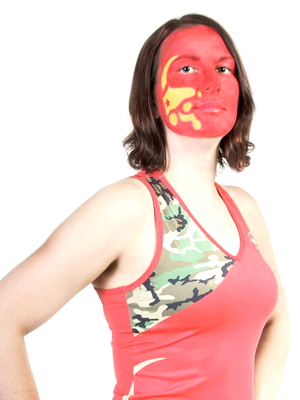 How long have you been playing derby?
I joined up in 2009 – this is my fifth year of skating overall and the start of my third season with the Bruisers.
Why did you start playing roller derby?
Out of high school, I had some mutual friends in common with one of BCB's first skaters (the newly-retired Beelzebelle), and they mentioned in passing that she'd started practicing some crazy sport at the time. I have been involved in various sports on one level of competition or another for most of my life, yet I'd never heard of this one. Intrigued, I started reading up on it online. I was very interested in joining a league, but at the time was relocating somewhat frequently – after settling down for a couple of years in the Quad Cities, a former college classmate of mine attended a local practice on assignment for her newspaper job. After watching the clip of her trying on gear and skating some laps with that league, I was hooked. Right about that time, I overheard a woman talking about her league at a friend's house party. I'd had just enough liquid courage needed to speak with her and get all of the details I needed to order equipment and start attending practices. I dove right in and haven't regretted anything about it, other than taking so long to finally get started – the adrenaline, camaraderie and constant challenge are all parts of the sport that have kept me returning to the track.
How long have you been roller-skating?
Honestly, my memory's a little hazy on this one. I know that at one point in my youth I graduated from those bright orange-and-yellow strap-on Fischer Price monstrosities to renting skates at rink birthday parties, but it was never a frequent activity. I could stay upright but never got the hang of stopping without running into walls. When my first pair of derby skates finally arrived in the mail, it'd been at least a decade since I'd last laced up. In retrospect, taking my lab/pit bull mix out on a leash with me the first time I tested out my wheels was not the best idea…when she saw a truck she recognized and took off in its direction, I found myself bent double as we raced down the street, the neighbors' laughter ringing in my ears while the dog jerked to a stop and I sailed gracefully face-first into a lawn. I have sometimes wished that I'd had more experience under my belt, but part of the beauty of the sport is that it's really never too late to get started.
How did you pick your name?
A former coworker of mine helped me out with that one…I agonized over the process far more than was probably necessary, brainstorming and scrapping nearly every idea for about a month or so before he saved my sanity with a suggestion I liked quite a bit. There's not really any personal significance to it other than that I enjoy plays on words.
What do you like best about roller derby?
I love so much about this sport…the competition, exercise, the focus on uplifting empowerment and how we work with so many great organizations in Milwaukee…but if I had to choose just one thing, it would be being part of something bigger than myself. As uber-cheesy as it sounds, it's true: derby folks are my second family. I've heard it said that roller derby is like a protective older sibling for when life acts like a bully. Things may not be perfect all the time, but when it counts, we stick together and support each other – not just within our own league, but all over the world.
What are your goals this season?
This year I'm focusing largely on more agile footwork and more powerful blocking. I'm on the leaner side and could stand to make more use of my legs to be more effective. More broadly, of course, I'd like to see us get our trophy back from those crafty ninjas. I've got two BCB seasons under my belt and would love the Rollettes to get back on top in 2014.
Do you train outside of skating?
I do a lot of bike riding and have some grand plans involving CrossFit and Brazilian Jiu Jitsu in the coming year. With the way things have been trending I think the sport is going to see more off-skates training if leagues want to stay competitive – if you happened to catch any of the WFTDA Championships and noticed the incredible fitness at that level of play, you know what I mean.
Do you play other sports?
I'm not currently involved in any other team sports, though in the past I played softball, soccer, volleyball and basketball regularly. Since joining roller derby, the only other athletic events I've done involve running and obstacle courses (I completed my first Tough Mudder this past fall, and will participate in The Great Bull Run this summer – is 'crazy' a sport? I'd say I'm pretty good at it…).
What do you do for a career?
I am a buyer for a sales & engineering company. I do some editing and occasional writing work for a local publication, The Milwaukee Alcoholmanac. I'm also serving as our Team Give (community service) chair, working with area charities and organizing donations and volunteer outreach within the Greater Milwaukee community. Ask any skater and he or she will tell you…derby easily counts as another job!
What's the best thing about being a Rollette?
The amazingly supportive and inspirational women I am lucky enough call my teammates. They've been there for me through some difficult times, keep me laughing and continually challenge me to push myself to full potential. There's also something about being on "the team everyone loves to hate"…it keeps us hungry, like we're constantly the underdog. REDRUM! KILL! KILL! KILL!
Anything else fans should know about you?
Above all, how much I appreciate our fan base – not just Rollette fans (though some of these are my most favorite people), but everyone who comes out to support the Brewcity Bruisers league. We wouldn't be able to do what we enjoy so much without all of you. Keep coming back! We love you!