Meet your Crazy Eights!!!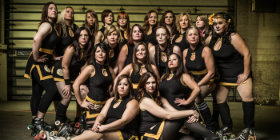 Ever wondered what it's like to be in the Ninja-fied world of the Crazy 8's? We sat down with Sharkira to find out!
How long have you been playing derby?
This is my fifth season playing roller derby. I've been on the Crazy 8s for each of those years, and this will also be my fifth season with the All Stars.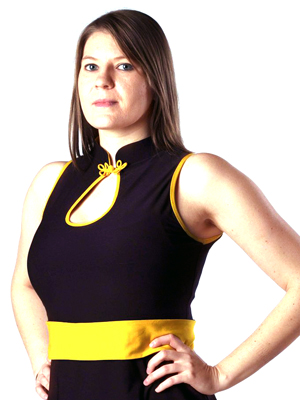 Why did you start playing roller derby?
My good friend, Baberaham Lincoln, started playing roller derby the year before I did. Like a lot of people, she always told me how amazing it was and what a great community it is to be a part of. I was really hesitant but she convinced me to go to a boot camp anyway to try it out. Since she lent me her skates and all her gear, I really had nothing to lose. (I skated almost the entire boot camp with my wrist guards on upside down). The newbie training was starting just two weeks after the boot camp, and without any good enough reason to say no, I decided to join. I really had no idea what I was getting into.
How long have you been roller-skating?
I went to the roller rink when I was younger, but at the time, I was more concerned about eating nachos and playing ski-ball. So derby was my first time really learning how to skate. I was in a very talented Fresh Brew class (with Latina Heat, Skittle, and Zotay, all pretty much life-long skaters), so it was a little intimidating thinking I would be competing with those ladies.
How did you pick your name?
I like sharks. I mean who's not afraid of a shark? And Sharkille O'Neil was too much of a mouthful.
What do you like best about roller derby?
I love being able to play a competitive sport that embraces every different type of woman and person. I love that I get the ability to travel around the country to meet so many people that have the same passion for roller derby. But most of all, I love being surrounded by such an amazing group of individuals, who everyday impress me with how strong and supportive they are, especially recently.
What are your goals this season?
The 8s lost some really strong skaters this past year, but I think our team has some great additions and we are going to be in it to win it again this year. I hope to contribute as best as I can to continue to be a strong and formidable team, which may include a little more jamming on my part than some past years.
Do you train outside of skating?
I try to stay active as much as possible, but I can't imagine anyone will ever catch me on a treadmill. Since starting derby, though, I have definitely stepped it up, but mostly because my captains/coaches make me. And because not having any endurance really sucks when people keep hitting you.
Do you play other sports?
I like to play tennis. I was also on a championship winning flip cup team (thanks Shevils!).
What's the best thing about being a Crazy 8?
The Crazy 8s are an amazingly dedicated team. Everyone on the team is always pushing to better their skills, both for themselves and for the team.I am so proud that we've won the past three championships, and after being captain, I know every year we've overcome many challenges to do so. Also, taco dip at all team parties.
Anything else fans should know about you?
Extra cheese, please.