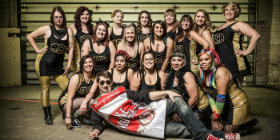 We had the fantastic opportunity to sit down with Frenchy Va Va Voom and get the inside scoop on the Beerleaders!
How long have you been in the Beerleaders?
I have been a Beerleader since August 2013.
Why did you decide to join the Beerleaders?
I first heard of the Beerleaders when 2 of my daughters went to the tryouts in 2012.  At that time I was approached by a Beerleader asking if I had wanted to try out but at the time, I was there to support my girls. During the 2012- 13 Season I attended every bout to support my daughter Arielle aka Blue Misfit. So when tryouts were held in August, I decided to give it a shot! So here I am……. a Beerleader! Mother and daughter Beerleaders!
Do you roller skate?
Funny you should ask! I did when I was younger. Attempted again later in life, but that's another story! After that I thought its best to be an observer!
How did you pick your name?
Picking my name was a lot of fun and a little crazy. It took me a while but with the help of family and friends, I was able to narrow the possibilities down to "Frenchy Va Va Voom." I think it's a great fit and am having fun with it. Everyone calls me Frenchy now!
What do you like best about roller derby?
I love that it empowers women. It's very exciting to see all of the action and interaction. All of the sisterhood and lifelong friendships that are made.
What are your goals this season?
My goals are and always have been to be the best that I can be and to have FUN! Life is too short. I also recently became part of Bout Production by taking on the position of Beerleader Mama and Fan Game Coordinator. I think it is very important to keep the fans engaged so that they become regulars to every bout and support the BCB.
How do practices run for the Beerleaders?
We have mandatory practice every Sunday. Now that the season is starting, we are adding an extra practice on Wednesday. We have a short meeting before we start. Then we go over our dance routines and practice some cheers if time allows. We laugh a lot and usually at ourselves! We are a crazy group of ladies.
Are you involved in any other activities?
I volunteer for a lot of the events with the BCB out in the community. I also am involved with the Special Olympics with my son. He has been an athlete since he was 8 years old. He also volunteers during the bouts cleaning the track.
What do you do for a Career?
I am a Certified Chiropractic Technician. I have been in Chiropractic since 2003.
What's the best thing about being Beerleader?
The best thing about being a Beerleader is supporting and cheering on the skaters and of course, having FUN! I am also grateful for all of the new friendships I have made within the BCB family.
Anything else fans should know about you?
I am Sassy! I love to laugh, dance and have a good time where ever I am. Love me a good margarita and if that's not available,  beer and a shot (or a few) of Drs. (Peppermint Schnapps) will do! Loving my life right now.
Are you interested in becoming a part of the Beerleader Family? More info is available HERE!