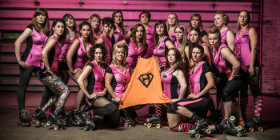 Rookie Mary Mother of Quad tells us why she's so happy to be a part of the "Working Class" and why you should love pink!
Why did you start playing roller derby?
I saw an All Star bout out in Franklin and was instantly enthralled with the sport of roller derby! My husband and my friend tried to convince me I could play roller derby, but I wasn't as confident as them. My friend made a bet with me, if I tryout out for the Brewcity Bruisers, then she would tryout for the Beerleaders. The rest is history! I tried out twice and made it on my second try! I only regret not finding derby earlier!
How long have you been roller-skating?
Only since I did my first bootcamp with BCB and started rec league.
How did you pick your name?
I'm Catholic and I wanted to pick a name that fit my interests as a person and wasn't vulgar. It was a bit of a process to find the perfect name, but I finally got it!
What do you like best about roller derby?
The combination of personal skate skills and team work this sport takes.
What are your goals this season?
Hone my skills both personally and as part of my team!
Do you train outside of skating?
I try to cross train by doing off skate drills.
Do you play other sports?
Not at the moment. I would like to use another sport to help me cross train, but I haven't found one yet.
What do you do for a career?
I'm a social worker. I work with low income seniors and disabled individuals in public housing
What's the best thing about being a Maiden?
We are a very focused team, but we do occasionally break out in laughter.
Anything else fans should know about you?
I'm so proud to be a Brewcity Bruiser and I want to give a shout out to our awesome rec league! It's an awesome way to learn about roller derby and learn the skills.