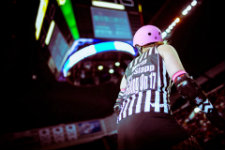 We sat down with one of our newer referees, Maria von Slapp to get the 411 on what it's like to be a Brewcity Bruiser referee!
(Photo by Nick Collura)
How did you first hear about roller derby?
My friend, we'll call her Penny Maim, began skating with the Shevil Knevils in 2009. I had to see what this whole roller derby thing was all about! I remember being a bit anxious and wondering what a mother of two young boys should wear to such an event. But once I was at the Milwaukee County Sports Complex, watching these amazing ladies in action, my orange moto jacket and studded belt were the furthest thing from my mind.
I knew then and there that I HAD to be involved in this amazing sport. I volunteered for the league in various roles for the next few years at home bouts as well as at BrewHaHa, the tournament hosted by BCB each year. I skated in the rec league for one session in 2012 before joining the league as a referee for the 2013 home season.
What made you decide to be a referee?
Full disclosure: I initially wanted to be on a team. I thought becoming a ref would give me an opportunity to hone my skating skills and really learn the rule set. And it has, but to my astonishment, I didn't try out this year! Giving up on a dream?  Not. Even. Close.
I have enjoyed being a ref from day one. You are constantly involved in the action, you have a unique vantage point and, let's be honest, if someone isn't doing what they should be doing, you get to tell them to go sit down and think about what they've done.
However, the defining derby career moment for me was officiating at 2013 BrewHaHa, the BCB's annual tournament.  Reffing and NSOing (Non-Skating Official for the layman) multiple bouts per day, meeting a myriad of amazing officials from across the country and across the Canadian border, and watching some of the best WFTDA officials reffing some of the best WFTDA teams sealed the deal for me. Maria von Slapp is a lifetime member of Team Zebra.
What was your proudest moment as a ref?
I was officiating at Rolling Along the River, a weekend-long tournament, in Sioux City. Most of my experience to date had been as an Outside Pack Ref (OPR). I worked my first bout as an Inside Pack Ref at RATR on Saturday, and felt that it went well. I was slotted to OPR a bout on Sunday, and I was pulled in to IPR. I was told that my IPRing the previous day was strong. I couldn't believe that my very first bout as IPR earned me an opportunity to IPR for the second time. It's not that one ref position is an inherently "better" or higher position than another, but it was a high compliment based on my experience level as an IPR.
What was your favorite bout to work?
My favorite bout to work was at BrewHaHa.  BCB Battlestars were playing the Iron Range Maidens from Grand Rapids, MN. The teams were great to work with, however the reason that this bout sticks out for me was another official. I had the pleasure of working with Jules and Regulations from the Tri-City Roller Girls in Ontario.  Jules led the OPRs in a really great discussion before the bout, and the crew gelled together well.  It was a great experience for me, and I have tried to emulate that experience in the bouts I have worked since then.
Best fall during a practice?
The most epic fall during a practice involved ref on ref action. I was picking up the pack from Nikrosis on an OPR (Outside Pack Ref) rotation. I stumbled and fell on the turn, and thus began the domino effect. Not only did I eat concrete, but since Nikrosis wasn't able to stop in time, he tripped, flipped end over end, landed in front of me and somehow did not break any bones.
Best fall during a bout?
I'm proud to say that the best fall during a bout earned me the Golden Wheel award for Best Ref Take-Down 2013. BCB Battlestars were bouting against Fox Cityz Foxz Scream Puffs. I was tracking with the jammer, Sorah Bones. Sorah was blocked by an opponent and skidded off the track and into the safety lane. I could see her coming as if she was in slow motion, but I was unable to change my trajectory to avoid her in time. We collided, and I took a helmet to the gut that raised me up off the ground.  I went up in the air, and crashed down onto the track. Then, as all good zebras do, I shook it off and got back into rotation.
What's your favorite part of being a part of Team Zebra?
Vertical stripes are slimming, which is nice. And you get to officiate BCB home season bouts, while having the option to travel with the BCB All-Stars and/or Battlestars to their interleague bouts and to travel to bouts when other leagues need officials.
What would you say to people who were thinking about becoming a skating official?
Do it! If you are dedicated and have a modicum of coordination (read: you can usually walk and talk at the same time), we can help you learn the rest. This is a fabulous league to officiate with, and I feel privileged to work with all of my crewmates. We have skating officials at all levels of experience, from rookie refs to certified WFTDA refs with multiple years of experience. Each brings their own viewpoint and teaching style to the track. Show up, be on time, listen and take feedback… and you too can reap the rewards of our awesome crew!
Are you interested in learning more about the awesome refs and how YOU can get involved? Visit the reffing page for more info HERE!!! Or do you want to read up on more of our awesome Team Zebra crew? Go HERE!!!