WFTDA Derby Championships Take Milwaukee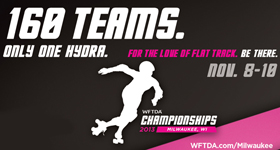 Derby fans. This. Is. It. The Brewcity Bruisers are honored to host this year's WFTDA Championships!
Starting Friday, November 8-10 Milwaukee will be teeming with derby talent! Don't miss this amazing opportunity to see some of the world's best roller derby teams in action! The first whistle blows at 2pm Friday, (doors open at 1pm) at the US Cellular Arena located at 400 W. Kilbourn Ave., in downtown Milwaukee.
And you guessed it Milwaukee- three bout days equals three after parties! The Turner Hall Ballroom located at 1032 N. 4th St (within walking distance of the US Cellular Arena) will be hosting all of our fantastic after parties. Make sure to stop by and celebrate with your favorite teams!
For ticketing information- go Here! where all of our outstanding packages are laid out for you! Have more questions? Check out the official WFTDA site Here!
Be there to see who will take the Hydra Trophy Home!!!