Calling All Future Brewcity Bruisers!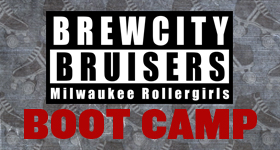 Are you looking to PLAY roller derby? Stop by our first Boot Camp of the season!
The first Boot Camp will be held on October 12, from 10am-1pm. Boot Camps are held at our top secret training facility in Milwaukee. Please contact Recruitment if you are interested in attending, we'll send you the details and get you pre-registered!
Whether you're an experienced speed/figure/jam skater or if you haven't laced-up since your childhood school skate—Boot Camp for Newbies is where you should begin! You don't need any previous experience; we start with the basics and move on from there!
Here's what you DO need: quad skates (no inline skates/rollerblades), helmet, wrist guards, elbow pads, kneepads, mouth guard, and $10. You'll want a water bottle and a great attitude, too. Oh, and you must be at least 18-years old to attend.
If you want to become a rollergirl, Boot Camp is a prerequisite, both for becoming a Fresh Brew and for joining our Rec League (Brewcity Bootleggers).
Contact Recruitment@brewcitybruisers.com for more information and to pre-register today!