Brewcity's Gala and Draft!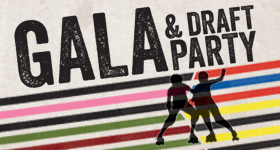 Come be a part of this year's derby draft! This is the first year the BCB draft will be open to the public!
The fun starts at 7pm on Oct. 18th at the Turner Hall Ballroom, located at 1034 N. 4th St., Milwaukee, WI 53203. The first part of the evening will include a silent auction for all sorts of treasures, derby and otherwise. Proceeds from this event will benefit the Brewcity Bruisers future programs and travel expenses. Draft picks will be announced at 9pm followed by a dance party in true derby style!
Tickets will be $6 and can be purchased in advance or at the door. To purchase tickets in advance visit: http://www.pabsttheater.org/show/bruisers2013
We can't wait to see you there- thank you for continually helping to support our league!