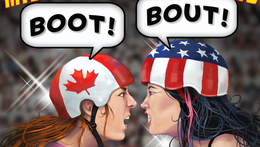 Are you looking to get out and about or oot and aboot this weekend? Then come cheer on your Brewcity Allstars vs Toronto CN Power and Brewcity Battle Stars vs Toronto Bay Street Bruisers this Saturday, August 10th!
Keeping the 2013 Interleague season rollin',doors open at 6pm and the Battle Stars lead off at 7pm at the Milwaukee Sports Complex located at 6000 W. Ryan Road in Franklin, WI. Adult tickets are $15, kids 12 and under are $12. Children under 5 receive free admission.
Don't miss out on this international derby experience! We can't wait to see you there! And after the fun, meet up with the roller girls at the after party! The Backyard, located at 2155 S. Kinnickinnic Ave. Milwaukee, WI will help us continue the celebration!
Check out our outstanding (ootstanding?) Brewcity rosters- won't it be fun to see all the Rollettes, 8's, Shevils, and Maidens playing TOGETHER for a change?

Allstars
10acious-D
Carmen Ejectya
ChaZaam
Frau KaPow
Grace Killy
Irish Vixen
Kimberrrr
Latina Heat
Puss N Boots
Sharkira
Skittle
The Other White Meat
T-LO
Whitness Protection
Bench Coach:
Betty Boobs
Battle Stars
Betty Boobs
Bionika
Chewbecca the Wrecka
Dr. Dre
Frank Hurt'r
Freight Train
Ida Stroyder
Kodachrome
Milwaukee's Breast
Mother Tucker
Servin' Justice
Shevilrine
Stormin' DaCastle
Strykher
Bench Coach:
Carrie A. Hacksaw