All-Stars Head to D2 Playoffs! (That's Cool)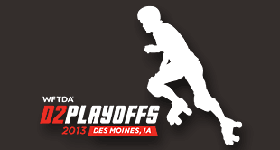 LET'S GET READY TO DERBY!!! The All-Stars are on their way to Des Moines, Iowa for the Division 2 Playoffs this weekend!
Cruising in at the #2 seeded spot, the Brewcity All-Stars will be playing for the first time at 8pm central tomorrow, Aug 16th. They will be taking on the winner of the Omaha Rollergirls (#7) v Treasure Valley Rollergirls (#10) bout earlier that day at 10am.
Looking to tune in? All D2 play will be available for viewing at http://wftda.tv/ — although no payment is required they are accepting donations to help fund this opportunity. Or find the D2 bracket here: http://wftda.com/tournaments/2013/desmoines
Here are the sweet line-ups we have for this weekend. Make some solid hits ladies- we are all rooting for you back home! GOOD LUCK TO THE ALL-STARS!
10AciousD
ChaZaam
ChewBeca The Wrecka
Grace Killy
Irish Vixen
Kimberrrr
Puss N' Boots
Scooter
Sharkira
Skittle
The Other White Meat
Whitness Protection
Carmen Ejectya Co-Captain
Latina Heat Co-Captain
T-LO Co-Captain
Bench Coach: Betty Boobs