2013 BCB Home Season CHAMPIONSHIP Bout!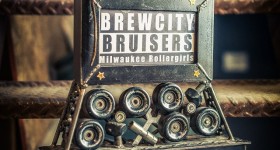 Well, this is it, Milwaukee. This. Is. It.
We can't believe we're coming upon the close of our eighth season as a league ourselves… seems just yesterday we were just getting our sea legs on skates in our very first home season, training newbies, learning the ins and outs of the game itself, learning every WFTDA-sanctioned rules change… (who are we kidding, we're still doing that)! Moral of the story: it seems completely implausible that the 2013 home season championship bout is this coming Saturday. But it is.
We, the Brewcity Bruisers – Milwaukee's first (and only!) all-female, flat-track roller derby league – would like to cordially invite you and yours to join us Saturday, 5/11/2013, at the US Cellular Arena for the closing bout of our 2013 home season.
What to expect? First up, it's the grudge match of the season wherein the Shevils and the Rollettes throw down and get serious about getting to hitting and playing some stellar derby. After that, it's on as it can be with BCB as the two-time championship winners the Crazy 8s look for a three-peat against the workin' class, kickin' ass ladies of Maiden Milwaukee.
As always, you've got talent in spades coming from announcer extraordinaires Bob Noxious and Dr. Awkward. Dori Zori of 88.9 Radio Milwaukee will be keeping the tuneage rockin' while the girls go round all night, while Freshluggage takes over the tables for the sure to be epic after party at Turner. Our featured sponsor of the month is Yelp, an online and mobile resource for all things Milwaukee… from craft cocktails to cupcakes and small plates to salons. (Check 'em out here!) We'll also be supporting MDA as our featured charity this bout, too.
5/11/2013. Doors at 6pm, whistle at 7pm. We won't disappoint, Milwaukee. We promise.