BCB Home Season 2013: The Semi-Finals!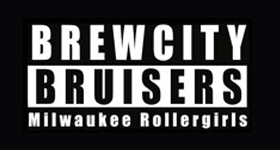 Sunday, Sunday, Sunday! (… in a booming, wrestling-announcer-like voice)
Can you believe it, Milwaukee? The Bruisers' 2013 home season is in its final stretch, and you better believe the exciting stuff starts now. Sunday, 4/21/2013, 2pm = the Brewcity Bruisers' semi-final throwdown! (Doors at 1pm, whistle at 2pm, y'all.)
Not that it wasn't exciting before… believe us, it definitely was. The 2013 BCB home season journey to now has been full of ups and downs for each team: injuries, learnings, successes and challenges. New players have come into their own, vets have amped up their game, and refs and NSOs have worked tirelessly to bring Milwaukee's derby game to you – the fans! – in the most mind-blowing-ly awesome way possible. And now, the right to play in the championship bout is on the line for all four teams. See the Rushin Rollettes battle the Crazy 8s in the first half and then it's the Shevil Knevils and Maiden Milwaukee in half numero dos.
As always, Bob Noxious and Dr. Awkward will be rockin' the mic right, keeping you in-the-know about what's going down on the track, and DJ Andrew Walter will be kickin' out the jams as the girls go round and round. Get your hands on some stellar merch – pre-packaged sets of koozies featuring home team logos will be on sale for just ten bucks! (We've also got super-cute BCB tanks just in time for spring/summer, as well as men's limited edition team tees.)
Our featured charity this bout is Danceworks – we're really into their commitment to health, creativity and the performing arts. And if you've ever wanted to get out that seat and get on the track, our next and final "Boot Camp for Newbies" event is scheduled for Saturday, June 29, so mark it on your calendar, aspiring rollergirls! (Contact recruitment@brewcitybruisers.com for more information.)
Join us afterwards at Turner Hall (in the ballroom) for an after-party full of the kind of fun you can only have hanging with rollergirls!
Hope to see you there, Milwaukee. This one's gonna be goooood.