Brewcity takes on Appleton Sunday, March 24th!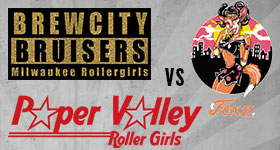 Looking for something to do this Sunday, March 24th? Come cheer on the Brewcity Bruisers at our first Interleague bout during the home season!
Our Brewcity Battlestars will take on Appleton's Fox Cityz Foxz followed by the Brewcity All Stars vs. Appleton's Paper Valley Roller Girls! Doors at the U.S. Cellular Arena open at 1pm and the first bout will start at 2:30pm!
Interleague bouts exhibit a higher standard of play as All Star coach, Jodee Licious elaborates, "For the fan, they can expect a more intense experience. Everything the fan loves about home season will be amplified in this game, harder hits and more aggressive skating."
Not to mention how exciting it will be to watch all your favorite players from multiple teams playing TOGETHER for once!
Adult tickets are $15 in advance and $18 at the door. Youth tickets, for kids 12 and under, are $12 in advance and $15 at the door. Children under 5 receive free admission.
Save money on derby tickets by donating a non-perishable food item to the Hope House of Milwaukee. Each donation is worth $3 off one regular priced ticket when purchased at the door. Milwaukee's Hope House is an emergency and transitional living facility as well as a true community center located in the near south side of Milwaukee.