Watch the Kids Play Roller Derby!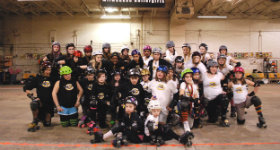 You've seen the adults play roller derby, now come watch the kids! The Brewcity Bruisers has a junior league called the Micro Bruisers and they will be competing between the adult bouts on Saturday, Feb. 9 at the U.S. Cellular Arena. The 40 boys and girls range in age from 8 to 17 and some have been playing since the junior league started last year. The junior league has been largely organized by Brewcity Bruiser Terror Lapinski. Here are some of her thoughts:
When and why did the league start the Micro Bruisers?
A couple years ago the BCB hosted a regional junior derby clinic run by the VP of the Junior Roller Derby Association. Skaters from Appleton to Chicago came to participate, and it inspired us to try starting our own junior team. We started with one "try-it" boot camp to gauge interest and immediately had a dozen families interested in giving it a try. After a few more clinics and boot camps, we decided last year to start running regular junior derby sessions, which run approximately five to six weeks throughout the year.
How often do they practice and what do they learn?
Currently our Micro team practices once a week, working on the same things our adult derby girls do: advanced individual skating skills, derby rules and strategy, and are just starting to learn basic blocking drills!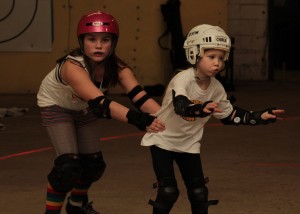 Do the kids have derby names like the adults?
All the kids are incredibly creative with their derby personas  — some are twists on their real life names, some are pop-culture related, and some are spin-offs of their skater-mom's names! Rollin Rizz, Ty-Fighter, Mini Meat (daughter of Crazy 8's The Other White Meat), and CinderHella are just a few of the awesome names they've come up with!
How often do they compete?
Right now our Micros have only bouted against each other. Last year they debuted at the U.S. Cellular Arena during the halftime of our March bout, and then again in a full-length bout at Brewhaha! With all the new junior derby league popping up around the Midwest, we hope to expand to Interleague play this year!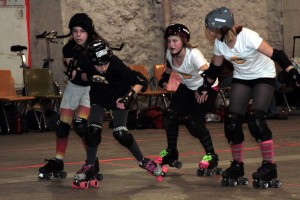 How much does it cost?                  
It also costs about $40 per 5-6 week session. They also have to purchase all the same gear that any other derby skaters needs to have to play safely… Multi sport helmet, mouthguard, elbow and kneepad, wrist guards and, of course, quad roller skates.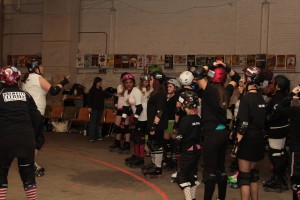 What kind of kids participate?
Just like the adult BCB league, there are all types of kids participating in Micro Derby! Some who juggle multiple activities, and some who've never had the urge to participate in sports before! If you ask the kids about their interests, you'll find figure skaters, rugby players, belly dancers, horseback riders, actors, singers, hockey players, campers, a kid who plays the ukulele, and one who enjoys just "being awesome". However, I'd say that last one would apply to all of them…they're all awesome! Some are also kids of BCB skaters, like Mini Meat, who is the daughter of The Other White Meat and niece of Milwaukee's Breast. There's Madd Hattress, the daughter of Minnie Krush; Dangerous Kam, who is the son of Zeze Rider; De-Fying Gravity and Prybar, who are kids of Electra Chakra; and Gnarly Charlie, who is Melissa Mayhem's daughter.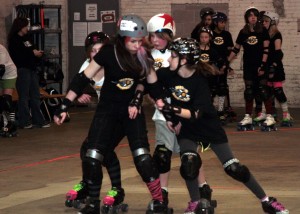 What is the most common fear of parents?
We actually haven't had many parents express a lot of fears about their kids playing roller derby — probably because most have seen the sport played before, and know what they're getting into! But make sure all incoming families know the importance of properly fitted safety equipment, and that our trainers know how to controlled teach skill progression. We also adjust our practice drills to ensure that skaters are learning within appropriate age/size/skill groups.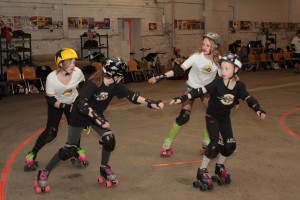 What are the perks of coaching the Micros?
Not only is this a particularly great group of kids to work with, it's amazing to share this awesome sport with the next generation. Kids are sponges and they pick up things so much faster than us "old ladies". Can you imagine roller derby in 10 or 25 years when these kids get to be our age?? It's incredibly exciting to know that what we're doing with the skaters now will shape the future of our sport! But even more importantly, I can see and hear about the immediate positive impact that derby is making in these kids' lives. I'm a huge advocate for team sports for girls (and boys!) and roller derby is giving these kids another alternative to grow both physically and emotionally. Life is full of ups and downs, and roller derby is incredibly empowering at any age!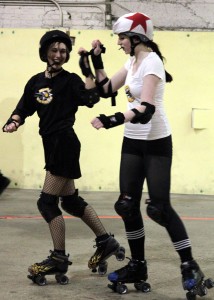 What can the crowd expect to see Saturday, Feb. 9?
All of our Micros will be participating in the mini-demo bout, but the lineups will be predetermined and based on age groups. Each team will be split evenly and lineups will rotate between grade school jams, then middle school jams, then high school jams.
(Photos by Amy Boyd and Jim Dier)