Up and Coming New Face: Stormin' DaCastle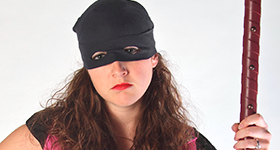 This year the Brewcity Bruisers welcomed 19 new faces into the league. One of the standouts is Stormin' DaCastle, a former ice hockey player who was drafted onto Maiden Milwaukee.
Here's everything you wanted to know about her and more:
How long have you been preparing to get into derby?
I went to my first boot camp in January of 2012 after attending a bout. After that I got involved with the Rec League and trained all summer in preparation for tryouts!
What positions do you play or hope to play?
I really enjoy the strategy of blocking- but wouldn't mind trying to jam now and again if my team needs me!
How long have you been roller skating? 
I really haven't roller skated very long. I might have gone a few times as a kid but my only memories are on rollerblades. So pretty much I started fresh at my first boot camp.
Why did you start playing roller derby? 
I moved to Milwaukee in January 2012 and was looking to get involved and meet new people right away. I absolutely love team sports and will play pretty much anything involving a competition. So basically, after watching one bout I was hooked.
How did you pick your name?
My all-time favorite movie is "The Princess Bride." There's a part where Miracle Max (Billy Crystal) shouts out to the hero to "Have fun stormin' the castle!" so I modified it based off of that.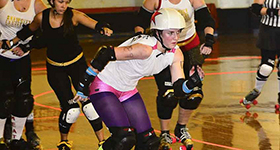 What do you like best about roller derby?        
My favorite thing about derby has to be my teammates. We are such a unique bunch of women and come from so many places, but when we're out on the track none of that matters. We become a team and work together towards our common goals.
What are your goals?
This season I really want to focus on learning the ins and outs of the rules. As a newbie the game can still be really overwhelming at times and I think focusing on the rule set and strategy will help me as I improve. Overall, I think I really want to be an All Star eventually. I hope to be able to compete at a higher level when I'm ready!
Do you train outside of skating?
I do a little training outside of derby. I lift weights 2-3 times per week.
Do you play other sports?
Name a sport and I've probably played it at some point. I really enjoy tennis, but the sport that has helped me the most to convert to derby is ice hockey. I played from 4th grade through high school and I really miss it. Derby is similar in many ways as far as how to use your body and engage an opponent. Not to mention the skating aspect.
What do you do for a career?
In my real life I am currently a Master's student at UW-Milwaukee. I'm pursuing a nursing degree and will be in school until 2015 (uff da!). I am really enjoying classes so far and can't wait to contribute my nursing skills to derby and the community when I'm finished with school!
How do you like your new team?
To be honest, going into the draft my mantra was "Any team will do". However, now that I'm a Maiden I know it is truly where I was meant to be. The women are amazing and while I have friends on every team (and my "derby wife" is a Rollette) it just really makes sense to me that I am a Maiden.
Anything else fans should know about you?
There is not a lot else to me. My most relevant news is that I got to marry my best friend on Dec 1st and am loving being a newlywed so far! Can't wait to see Mr. DaCastle out there in pink cheering me on come bout time!!!