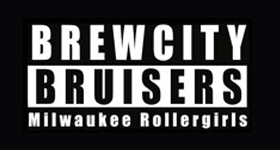 We are airing our first television commercial starting Sunday, Jan. 6 on WITI-TV in Milwaukee (Channel 6)! What does that mean for you? You could win free tickets to our bout on Friday, Jan. 11 at 7:30 p.m. at the U.S. Cellular Arena!
Here's what you have to do:
First, if you haven't already become a fan of the Brewcity Bruisers' Facebok page. Then, find the link to the commercial and share it with all your Facebook followers! Everyone who shares it from the Facebook page will be entered into a drawing to win a set of two tickets. We're giving out five sets in all.
Not required but encouraged: Talk us up! Tell everyone how we're super pretty, tough and smart. And the bouts are the best time ever!
Here is the commercial, but repost first from the Facebook page!!
The winner will be announced on Friday, Jan. 11 by noon on the BCB Facebook page.