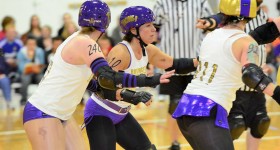 The Brewcity Bruisers' oldest player is 48 years old but you would never know it. She definitely doesn't look it and she doesn't play like it. It's 10acious-D from the Crazy Eights. This is her third season with the Eights. She's also played three seasons with the Battlestars.
Here's what she had to say about her time on the league:
Why did you start playing roller derby?
I was watching "Whip It" with my niece who was 7 at the time.  Roller derby looked like fun so I did a Google search on roller derby and Milwaukee and the BCB site came up.  I started doing the roller derby boot camps with my good friend Mother Tucker and I was hooked.
How did you pick your name?
My son is a fan of Tenacious D (Jack Black's band) and he was playing the Kickapoo song on his guitar. I started thinking I'm tenacious, my name is Dawn and the number 10 was still open on my team. It all just fell into place and 10acious-D was born!
What are the highlights of skating in BCB so far?
I took Fidela Castrate  (a.k.a. Freight Train) out during practice! That was a huge accomplishment for me and a huge confidence booster. I'm not the biggest girl on the team but I still can pack a mean (bony) hip check!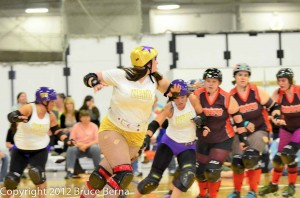 How do you think your age affects you, if at all?
It makes me wiser (ha). I leave the after parties before I drink too much.  Really physically I do not think my age has affected me but I guess I really have nothing to use as a baseline, since I started playing derby in my 40's.
How do people react when they hear your age and that you play roller derby?
Well usually their jaw drops and I hear  "What, No F'in way!". The ladies on the league are awesome and my age is not an issue, at least I think.  They kick my ass and I kick theirs right back!
For the most part people are very supportive but I have noticed that people who are closer to my age think I'm nuts and want to know why I'm doing this.  I respond: Because I can.  I'm healthy, I'm in great shape, I have the time and I love it.  No one questions the sanity of a man when they play rec league hockey in their 40s and 50s so why is it so weird that a woman would want to play a physical sport like roller derby in her 40s and 50s.  If you can do it, then why not?  We only get one life. You have to make the most of it!
What are your goals?
This season: I want to jam consistently, fast and with no fear. To not hesitate when I see a huge four-person wall of blockers waiting for me licking their chops.  I'm going to fake to the left, back spin and sprint to the right. I'll get around them when they are looking the other way. That is what I have pictured in my mind. Will it happen?  I think so.
I would also like to make the All-Star team this year and play in the WFTDA Championship games with BCB in November.
My overall goal: I want to stay strong, healthy and have the stamina needed to keep playing.
Do you train outside of skating?
I work out six mornings a week. Cardio, Plyo, Weights, Calisthenics.  I hate push-ups but they really do make your arms look great!   Then I go to derby practice three times a week:  two with my home team the Crazy Eights and one with the interleague team.
How long will you play?
If I don't break a hip then I will keep playing.  I told myself when I tried out for the Bruisers and made the team this was only going to be for three years.  Well, three years is at the end of this season and I do not think I am ready physically or mentally to stop playing.
But if I see that I can no longer play and be competitive then I will back out.  Derby is a team sport; it is not just about me but my team and the league as well.  If I am hindering them in any way I will stop.  Then I will bench coach! They can't get rid of me. I'm here to stay!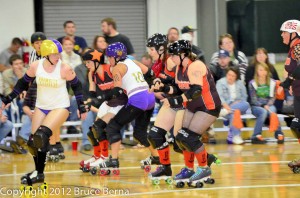 How long have you been roller skating?
Since I was a kid at Red's roller rink in Kenosha, Wis.  My dad bought me a pair of Cyclones for my 12th birthday.
I put the skates away in my teens through my early 20s and then pulled them out again when kids arrived. I have one biological and three step children and we are a skating family (roller and ice).
Anything else fans should know?
I do get discouraged at times, I do sometimes catch myself saying I'm too old for this (expletive) but that only lasts until I get back up on my skates again!
Also, this is the first time I have ever played a true team sport.  I have always been an individual sports person (golf, bowling).
Lastly, I have a couple of bout day rituals. I have a hypnosis CD about derby.  We did a team bonding thing my first year and went to a hypnotist and she gave us some hypnotic suggestions on playing derby. I still have the CD (it's on my iPod) and I listen to it before every bout.
I also have a lucky sports bra that I only wear for home season bouts.