Derby, Baby! Gala at Turner Hall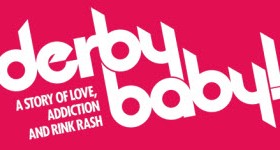 Great music! Athleticism! Drink specials! Pizza! Popcorn! A stellar silent auction! ... and of course, the Wisconsin premier of Derby, Baby!
That's right, Milwaukee. A fundraising gala of epic, derby-tastic proportion hits Turner Hall this Friday, October 19 beginning at 7pm sharp! All ages are welcome to this one of a kind derby-centric shindig, where your very own Brewcity Bruisers will be hosting Wisconsin's first screening of Derby, Baby!: A Story Of Love, Addiction, and Rink Rash.
With music from 88.9 Radio Milwaukee's very own Dori Zori, killer drink specials ($15 all you can drink taps/rails for the duration of the film), snacks and 'za (courtesy of Streetza Pizza), and a silent auction featuring outstanding wares and stellar services from local Milwaukee businesses, you'll not want to miss this Brewcity bash! (Want a sneak peak of the auction item awesomeness? Simply click here!)
Snag tickets from one of your local rollergirls, or head to Turner Hall's online box office to buy on the interweb. (Why not purchase this Friday night fun in advance from the confines of your cubicle or the comfort of your couch? We won't judge you if you're wearing sweatpants… )
It's Derby, Baby! at Turner Hall, with Milwaukee's one and only all-female, flat-track roller derby league… the Brewcity Bruisers! We'll see you there, MKE.