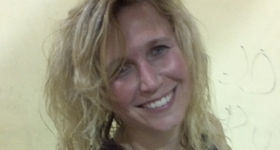 The vets returned to practice Sunday, Sept. 23 and among the new faces is Gynomite, who has skated in the Appleton area since 2008.
Gyno transferred to the Bruisers this summer. While she awaited the draft to skate on a home team, she was eligible for BCB's interleague teams. She tried out for and made the All Stars and even competed at regionals.
If you've not seen her in the Fox Cities, check her out in Milwaukee (pending next month's draft) in January!
Here's everything you ever wanted to know about her and more:
Name: Yvette Jenkins
Derby Name: Gynomite (No, I am not a gynecologist. I'm a banker) 🙂
Number: 696
My first year in roller derby was in 2008 with the Fox Cityz Foxz in 2008.  I was asked by a volleyball teammate if I wanted to try roller derby.  Since I skated a lot when I was young, played all kinds of sports, and was/am competitive in nature I said, "Hell yes!"  I played for the Roller Girl Regiment and we won the league championship that year.
Since the Foxz did not want a travel team in WFTDA at that time I joined the Paper Valley Roller Girls in 2009.  I was extremely lucky to get MVP (defensive player) every year there was a vote. It has been an amazing ride with PVRG and watching our league grow. I decided to try out for the BCB to see if I can improve my skating even more since BCB is a much larger and more established league. I wanted to see if I could make it before getting too old. I feel extremely lucky to get a chance to skate with the All Stars at Regionals. They all accepted me with open arms and kindness.  It's been great!  I loved it when I came to my first practice and it felt like every girl there was instructed to knock me on my ass.  It was so much fun!
How did you come up with your name?
I was searching for a derby name and asked my friends for help.  One of my co-ed volleyball teammates was wearing a shirt that said Gynomite on it and I thought that would be a perfect derby name.
What is your favorite part of roller derby? 
That's a tough question.  There are many things I love about derby.  One, I used to play very competitive volleyball but as I aged it was getting more difficult to keep up with the women half my age. I love that skates equal out the playing field for me and only my ambition can stop me from playing competitively with and against those 20 somethings 🙂  I am taking up golf though for when my body quits but don't plan on not playing derby any time soon. I love that derby can also help me stay in shape.  Maybe my most most favorite part of derby though is the fact that it brings out another personality in me.  As a skater I am a more confident, social and outgoing person.  Derby has allowed me to experience the fun life has to offer.
What do you want fans to know about you?  
Wow, this is the toughest question for me.  I guess a lot of people might not know it but I am extremely shy.  Others think I more confident than I really am. I would love it if they came to say "hi" and I am so excited to be a part of BCB.  I can't wait for the home season!