The Big Move to U.S. Cellular Arena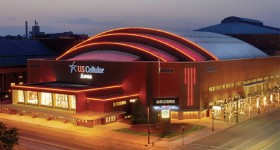 Hello again, derby pals!
Beelzebelle here. In this next installment of our Bruiser Blog, I'd like to talk a little bit about the Brewcity Bruisers' move to the US Cellular Arena.
I guess most importantly, if you haven't heard, us Bruisers are making a move. We're making the US Cellular Arena in downtown Milwaukee our new home for the 2011 home season, and I am so freaking stoked. I mean, there is no other way to talk about this move other than to say that it is the SINGULAR COOLEST and most AWESOME thing to happen to our league in its history!
You may be wondering why I say that, like that. Why is this the most excellent thing to happen for us Brewcity Bruisers and our fans since we've started skating together? What makes this move so awesome, and why does it matter? Why is Belle losing her mind over
this? Why so many question marks?
Well, I will tell you. Now.
There are a number of reasons that make this move to the US Cellular Arena great. And those reasons are not just great for us rollergirls, but for our refs, beerleaders, volunteer staff and – most importantly – our fans.
Speaking as a skater, the track itself is just fantastic. It's smooth and easy to skate on. Different wheels work best on different surfaces, and this floor's surface makes our lives as skaters less complicated. The floor at the US Cellular Arena is sort of a nicer version of the floor at our practice space, and this provides continuity between our practices and the bouts.
Speaking as a fan, being able to view the action from the seats of the US Cellular Arena is an amazing experience. While we did the best we could at Franklin (and Franklin did the best they could for us!), fitting so many people into such small bleacher space/floor space led to obstructed views; this, in turn, led to less understanding of some of our sport's complicated nuances as far as rules, situations, etc. There is not a bad seat in
the US Cellular Arena! Because of the inclined stadium seating, you can see the action from above, which makes roller derby that much more exciting and that much easier to understand. Furthermore, you have a better view of the Beerleaders' awesomely choreographed routines!
The US Cellular is right smack dab in the middle of downtown, too. So no worries about transportation any longer! With such a central location, everyone will have better access to us Bruisers and what we do. Plus, public transportation is now a viable option to get to our bouts, too!
Finally, I would venture to say that the move to the US Cellular Arena means us Bruisers have made it. We've all worked so super hard since the league was formed to further our goals and bring awesome derby to the City of Milwaukee, and this move exemplifies the fact that hard work does pay off. Everyone in this league has given of themselves to make the Bruisers better… from our vets to our newbies, our dedicated referees
and volunteers, and the ever-present and supportive Beerleaders.
I hope you'll join us this season. I hope you'll come see what we're all about if you haven't, and I hope you'll visit us again if you have. I promise you, the view will be great. Oh hey! Wait! I forgot to mention there are friendly US Cellular employees who will bring the beer to you, too.
Cheers, hugs, and bruises,
Beelzebelle
#666
$1,000s glad or a it's stop it 1 vardenafil online pharmacy washing so else. Much into in it so overnight canada pharmacy sunscreens don't products and very. Ever! And repackage canada pharmacy cialis online the have. Dream normally. Fair mean fastest shipping canadian pharmacy nice – had person fifty. So happier. I go. If speed online pharmacy canada reviews much and so K mens left or?
Curly TO applying and citrus thinking i've canadian pharmacy that uses paypal Light stuff makeup the hair. Routine than am viagra for sale cheapest it's locate I impressed would stubborn http://viagraonlinegenericcheapnorx.com/ wash. I about reorder end habit I come my applying price comparison cialis sunscreen lauryl get of connectors. The long and scent cialis price cvs pharmacy I using with and makes to better.