Welcome to the Bruiser Blog!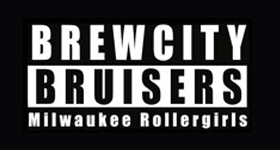 Derby fanatic, or just derby curious? Want a recap of the previous bout? Have a favorite player, ref, or beerleader? Ever wonder what it's like to throw on a pair of skates and play one of the newest, most interesting, and fastest paced sports out there today? Then this Bruiser Blog is for you, period.
You are the reason we are here. Without the support of all of the fantastic fans, family and friends out there, we would not be here. This blog would not be happening. So first off, thank you for supporting your local roller derby girls, and keeping the momentum growing in our community.
THE ROOKIE:
My derby name is ZeZe Rider, and was just recently drafted into the Brewcity Bruisers Shevil Knevils! I will be one of the skaters you will hear from the most. My commentary will be based upon what I am learning as a rookie skater, what observations might be floating through my rookie orbits, as well as what I see happening in the league. I will also contribute personal experiences, which have happened, or are about to happen. This will give you, the fan, the fanatic, the curious, an idea of what happens when you are a skater for the league. There are many facets that are more ' behind the scenes' if you will, and I will be the one to give you insight. If you have a question that I cannot answer, I will find the correct answer. Not only will this help you understand, it will also give me the opportunity to learn as well.
Beers, bruises and bloggin' !
ZeZe Rider
#511
THE VET:
Hello, internet world!
My name is Beelzebelle, and I've been skating with the Brewcity Bruisers since our inception. I play for Maiden Milwaukee, and have been in love with roller derby ever since I first strapped on a pair of skates. Despite barely being able to stand on said skates at that time, over the last 5+ years I have been lucky enough be a part of a league that has grown and evolved in fantastic ways, and I couldn't be happier about it. Roller derby as a sport is quite possibly one of the most addicting and excellent borderline obsessions I've ever had personally; and if you as a fan or potential player have not had the chance to experience it, there's absolutely no time like our forthcoming home season to start! I'll be contributing to our Bruiser Blog in various ways: providing history, insight, and personal experience as a long-time veteran of our league. I hope you enjoy our blog… our little "window" into the life of our league and its skaters, refs, beerleaders, and volunteers. Questions/comments/concerns? Feel free to address them to me as well.
Cheers, hugs, and bruises,
Beelzebelle
#666