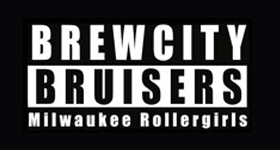 There is something to be said about what derby girls do pre-bout. Many have rituals to get ready to kick ass on the track. Some have dietary things they do, some do the same thing every time and some just don't do a single different thing. Many have admitted to having to, eh-hem, use the bathroom more than normal. As a rookie skater, with only a few days away from the home season opener bout, I reached out to some of the experienced vets to see what their rituals are. Here is what I got:
Servin' Justice of the Crazy 8's: "I like to sleep in as long as possible. Once I wake up, I start drinking lots of water, and make sure I eat right and eat light! I have a superstition about not shaving my legs on game day. I take the same route to the venue, and always making sure I ask The Other White Meat to bring me a peanut butter and jelly sandwich for half time. Right before the game, I load up on some high-protein goodies, Emergen-C, and make sure I take some meditation time with the team.  I'm not sure how successful my ritual is, since I'm in the penalty box a lot, so maybe I'll change it up this year and hope for some awesome victories!"
Sevo of the Rushin' Rollettes: "To get pumped, I usually get jacked up on some serious caffeine, which consists of a quad shot mocha, and watch bout footage. My bag has all my tools and extra parts to repair my skates in a flash. I bring extra laces, socks, wheels, make-up and a spare change of clothes just in case. You never know!"
Feisty Pfister of the Maiden Milwaukee: "I sleep-in until about 10ish, then have brunch which usually consists of a salmon omelet. After brunch, I get back home and use the bathroom to make myself lighter, so I can skate faster. Take a shower and shave my legs, as you never know if something bad will happen. Which could make it a while before I can shave again. I pack up my gear, including extra tights, derby skinz and socks. I usually ask my team which looks better. Then there is the carpool with Andicent Proposal, and we make a stop at Subway to get a pre-bout snack. I gear-up, plug in the headphones and jam out to some good music to get myself ready to kick some ass."
Last, but definitely not least, my favorite response from Bionika of the Maiden Milwaukee. "I can answer on behalf of myself and Romaniac (also of the Maiden Milwaukee).
9 am-11 am
Bionika: gets up, gets in pre-gear, gets excited. Cleans skates. Breakfast. Annoys husband by jabbering about the game.
Romo: Sleeps, avoids thinking about game, has to get up to poop.
11 am-1 pm
Bionika: Goes upstairs to bug Romo, brings food so Romo eats real food and not plastic plants and potato chips.
Romo: Still in PJs, poops 3-4 additional times.
1-2 pm
Bionika: Getting antsy, wants to get to the bout space. Gets annoying.
Romo: Really wishes Bionika would calm the hell down, if she gets too worked up it will only make her poop more.
2-4 pm
Bionika: Annoys Romo until Romo gives in and decides to leave earlier than she really wants to.
Romo: Leaves earlier than she really wants to. Poops 1-2 times.
4-6 pm
Bionika: At the bout space, generally ready to go hours before the bout. Tries out track before the tape is all the way down. Just in case.
Romo: Busts her ass to check last-minute bout details, back to the bathroom."
Priceless information from some priceless ladies! Now, let's skate!
Beers, bruises and bloggin'!
ZeZe Rider
#511